Bad Guy Without Honor And Humanity
The
Yorkie
and I slept in until the alarm woke us at 10:00, something that I normally don't bother to set on the weekends, but I figured that I wanted to get up and moving and maybe try to hit up a few garage sales if possible. We got the house opened up for the day and fetched the newspaper, which wasn't enough for the dog, she still whined a bit about going outside, but I had to kinda ignore that after her last escapade of walking outside and eating the first mystery item she found on the ground, because I've finally come out of my funk from last week and want to do as little as possible to agitate myself completely.
The newspaper had an ad about the
Boy Scouts
having a 'book sale', the directions to which brought me to the little
Library Book Store
, which I thought was interesting. The sale apparently benefited the store, but unfortunately the books themselves looked as if they'd been dumpster diving behind the building, because the majority of it looked like books that they couldn't sell inside because of age or boring subject matter. I did turn up one book on horror films, which was priced at $.50, so I gave them a dollar because I was feeling particularly generous, then took a browse of the store itself and found nothing. I ran by a couple other addresses that hinted at books, but came up empty-handed as well, so I finally called in an order for
Thai
from our favorite place and picked it up on my way home.
The
Yorkie
greeted me warmly and I settled into the den to eat and finish out the second disc from
The Simpsons
season 6. I also took the time to look in on
The Simpsons game
, as I'm desperate to finally finish out the various
Whacking Day
tasks, which I'm honestly not 100% sure I'll manage unless I get more snake eggs from friends, very few of which seem to leave any in my
Springfield
. That last line could be the nerdiest fucking thing I've ever typed and I'm ashamed of myself on many levels. Y'know, like what a dork I am, and what a fucking idiot for caring about this dumbass game. Yeesh.
Being in the middle of the afternoon, I decided that I needed to tackle a few of the things I'd vaguely planned for myself this weekend, so I popped in some podcast-related viewing off the
To-Watch Pile
.
So, SO GOOD. Well Worth
The Wait.
Battles Without Honor And Humanity
is a
Kinji Fukasaku
film from the '70s that kicks off the
Yakuza Papers
series of films, which follows a series of characters in
Hiroshima
from the end of
WWII
up to (I believe) then-present day as they form the first
Yakuza
organizations and double-cross one another in their struggle for power and control. The film was amazing, and I finished it and immediately ordered the rest of the films in the series, as I want to maybe try to watch them while this one is fresh in my mind.
After the film I placed that order and spent some time on the web with the blog, then busied myself in the late afternoon with a cocktail and some painting I've been working on and rearranging some of the piles of
DVD
s that seem to proliferate around this place.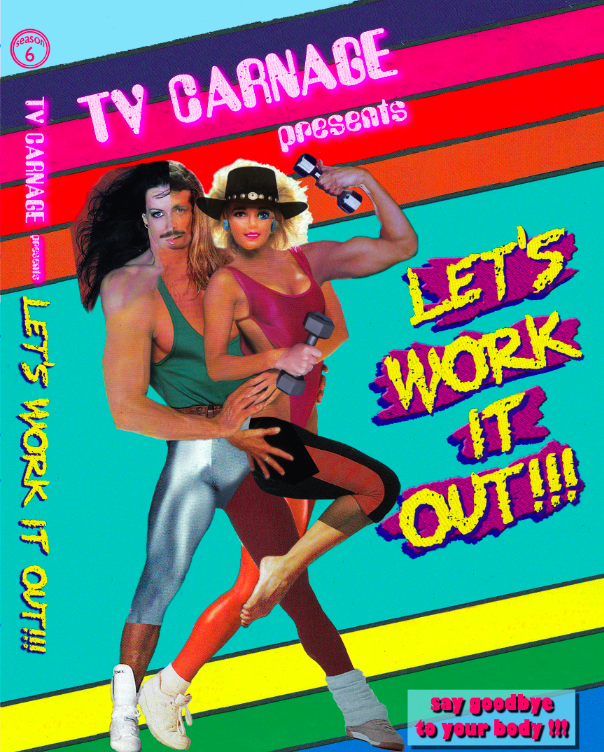 Feel The Burn?
Eventually I settled back into the den and gave
TV Carnage: Let's Work It Out
a first time watch. This was something I'd been putting off because it's the last disc of theirs that I hadn't seen and I wanted to savor it because I don't know when they'll be doing more. It was pretty amazing, well edited and compiling nothing but weird workout stuff from various civilians or celebrities, none of which look all that normal when working out. Great stuff all the way around, and I'm just itching to show it to someone else, because of all the weird cameos. I mean, seriously, there were some really odd choices made when it came to the work-out fad of the '80s, because
EVERY
B-List celeb seemed to get into the act.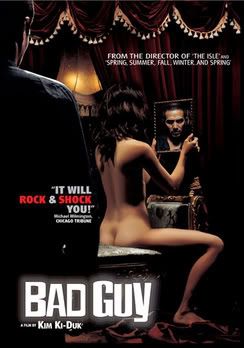 Forced Into Prostitution?
Worst. Romance. Evar.
I made myself another cocktail and popped in
Bad Guy
for a re-watch, which is a
Korean
film that
Netfux
tells me I first watched about 5 years ago. It was being covered by a show, so I figured that I could give it another look to refresh my memory before listening As it turned out this was a good idea, as I barely remembered anything beyond the basic set-up, which is that a pimp is slighted by a college girl that he tries to make a move on, so to get his revenge he contrives a scenario where she's in deep debt and accepts a loan using her
body
as collateral, forcing her into his stable of women turning tricks out of a building in the red light district. His obsession grows and he falls into his own twisted kind of love with her, which is just fucking strange, but
Kim Ki-duk
doesn't make super-normal movies, so this is par for the course.
By the time the movie finished it was pretty late and the
Yorkie
had even taken herself to bed in the bedroom, so I made a final cocktail and then fell down the rabbit-hole of watching a bunch of music videos on
YouTube
, pausing to speak to the wife about her day when she called around midnight. We caught up a bit, then I said goodnight to her and lost a couple hours with more music nonsense before finally heading to bed around 5:00
AM
with the plan of working on the blog for the day on
Sunday
morning whenever I might find myself waking up.
I'm out kids.
Be seeing you.