Goodbye Lunch And Darkening Shadows
The wife had meetings this morning and was gone when I woke with the alarm at 10:00, so I gave the
Yorkie
a cuddle and then got up and moving, opening the house for the day and being promptly ignored by the dog when I went to fetch the newspaper from the front walk.
I'd traded texts with
EL
regarding a possible lunch date with he and
DR
, since
DR
will be moving to
Georgia
in the first week or so of
August
, and
EL
was indeed able to wrangle a meeting at noon today, which worked out really well. He called to see if I was up for it while I was working on the blog a bit, so I told him I was down and started looking for a stopping point for my
Interweb
nonsense.
DR
was waiting for me when I got to the restaurant, and we were soon joined by
EL
, then we visited for a nice long time.
DR
was
really
wound up and excited about the move, so that's really cool, and he'd sold a lot of artwork at the going away party/art show that
EL
and his wife had thrown for him last weekend while we were out of town, so he's also flush with cash for the move. We visited over the meal, letting
DR
lead the conversation since he has so much new stuff happening in his life, then
EL
had to excuse himself and head to a painting job he's working on, so I spent some more time with
DR
and his renewed
Paris Hilton
obsession, then we said our goodbyes and went our separate ways.
Big Lots
nearby was calling to me, though I came away empty-handed and then decided that
Starbucks
was also on the agenda before heading home to see what the wife and pup might be up to.
After visiting with the wife and pup for a few I found my way into the
Office
and spent the bulk of the afternoon working on getting notes from the
iPhone
and
iPad
e-mailed to the
PC
so I could drop all of it into the
Blogger
template and start trying to make sense of it all. I hadn't really made any notes whatsoever for
Friday
for some reason, so I gave that a solid pass to get the details in print before I lost anything big, figuring on 'vamping' with the various nuances at a later date as I finally get things closer to published.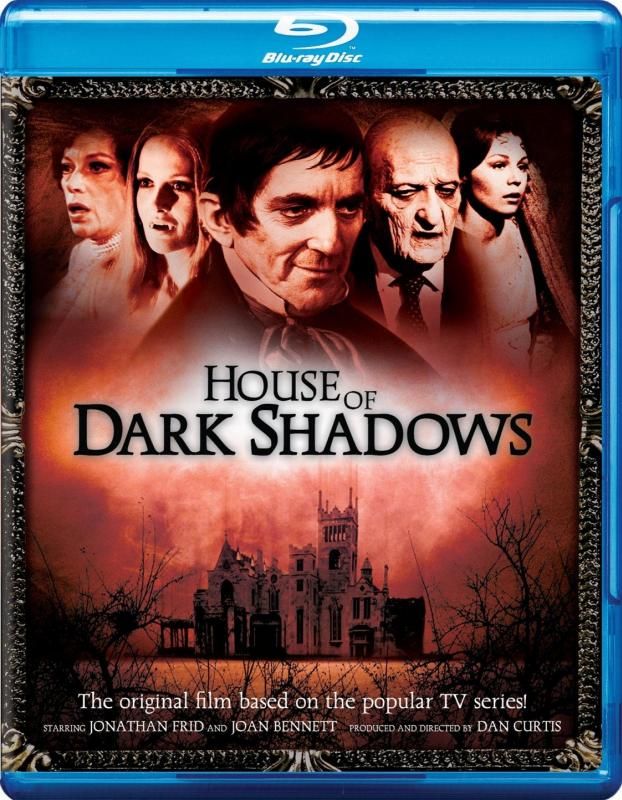 He Is Not A Monster!
In the late afternoon I finally came to a stopping point while the wife was on the phone with the
Middle Sister
relating all the various stuff from our weekend, as well as the recent manic episode that the
Mother In Law
had, just sort of comparing notes on things. I checked in with her, then made myself a drink and headed into the den to give
House Of Dark Shadows
a re-watch to break in the
Blu-ray
. The weather outside was threatening to have a rainstorm blow through the area, so I thought some sort of vampire stuff in a rambling old
Gothic
house would be appropriate viewing. The flick holds up well, even if it always seems like the
Dark Shadows
stuff re-treads the same material of
Barnabas
lusting after the supposed reincarnation of his lost love, partial cures from the smitten doctor, etc.
...And I'm Pretty Sure He Called
Me A Hooker.
The wife eventually joined me for the end of the movie and then we moved on to a little bit of dinner and an episode of
The Leftovers
off the
TiVo
, then we moved on to a couple episodes of
Maron
, since that show has been stacking up quite a bit recently, then we started to wrap the evening. I put the wife and pup to bed, then decided to have a final cocktail and re-watch the more recent version of
Dark Shadows
that we got from
Tim Burton
, which I still really enjoy and would champion to people if they can get past their knee jerk reactions to the fact that it's different than the source material and has (
God
forbid)
Tim Burton
directing it, because frankly a lot of people have issues with that poor crazy-haired bastard.
Camouflage Doesn't Help
When The Other Guy Is
Willing To Defoliate The
Whole Jungle.
I came to the
Office
late after the film, got a post published then headed to bed to read for a short time before crashing out, giving the next
Andrew Vachss
novel a go and starting in on
False Allegations
. As I revisit these books I'm very curious to see just how far I made it into the series, as I know it ends around the 17 book mark, and I feel like we're probably on the tail-end of when I was reading these as they came out, so at this point I'm just waiting for something to not seem familiar, but there's one very specific death scene I know I haven't seen yet, so there's got to be a little further to go. I gotta say though, I'm not looking forward to that death, and I can only imagine that the series gets more bleak after that.
I'm out kids.
Be seeing you.