Birthday Bash Day Five: The Day Of My Birth And Other Diversions
So last night I slept somewhat poorly, as I was feeling a bit anxious because I would need to be up and about to see folks off in the morning and I didn't want them to be left waiting around on me if they needed to be on the road, or, even worse, leave without being able to say goodbye. I ended up finally getting up to find everyone else downstairs and visiting by 8:30, which didn't seem all that bad in comparison to my own fears of oversleeping.
Everyone was sort of assembled in the den area, where we visited a bit about the day and weighed plans for everyone's departures, which would be stretched out over the course of the afternoon. We eventually decided that these plans would include breakfast in
Kingsland
before we started to see everyone off over the course of the afternoon.
We all piled into various vehicles, sending
Corinthian
on his way since he would have to work in the late afternoon, then we took a couple cars into town to have 'brunch' at
Sweet Things
.
We had a good meal at a large table in the back of the restaurant, then saw
Buckaroo Banzai
off from the restaurant so that he could be back at a reasonable hour. The rest of us headed back to the house where we enjoyed a bit of
yet another
cake and I opened a last few gifts on the day itself, then
Anastasia Beaverhouszen
,
Kno1
and
Brian
finished loading their vehicle up and hit the road back to our hometown.
Great Stuff.
As it turned out,
Morris
was to leave just behind them, then we sort of all took a deep breath and relaxed for the afternoon since most of the entertaining was behind us and we could just chill without sort of being concerned with what other folks had to do, or if they were having a good time, etc.
The
Beau
watched some football in the den while the ladies napped in their respective bedrooms and I settled into the
Media Room
upstairs with a drink in the late afternoon. I decided to give one of my birthday gifts from the wife a spin, the
Blu-ray
release of
Comic Book Confidential
, which I used to own on
VHS
but hadn't ever got around to upgrading to
DVD
, which I believe went out of print after awhile. The movie is a great look at the comic book in pop culture, from the early days of funny animals through the '50s censorship nightmare into the undergrounds of the '60s and on up to the indie and more adult work that we enjoyed in the '80s. Still a lot of fun and something that I think would be a fun way to introduce the layman to the hobby if one wanted to give them an idea of what drew you to the form.
"When I Was A Kid, If You
Had Asthma...People Beat
The Shit Out Of You!"
After that I moved on to
Greg Giraldo: Midlife Vices
, a stand-up special that I'd brought along for the trip. I t was a lot of fun, and I have to say that I really am sad that he passed away, just because he was a really funny guy. After that special wrapped I shut everything down in the
Media Room
and then went in search of the others to see what their evening was looking like.
The wife and pup surfaced and we debated the dinner options, of which there were likely few with it being a
Sunday
night in a small town, so we ended up taking everyone's food orders and then breezing into town for a
Sonic
run, which seemed like the easiest thing to do without making a big production out of dinner. Back at the house we hogged down dinner at the kitchen table, then the In-Laws crashed in their room early while the wife and I headed upstairs and watched
The Great Gatsby
re-make in the
Media Room
, just because I was keen to break in the blind-buy
Blu-ray
.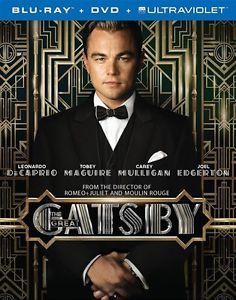 Official 'Old Sport" count:
4,017
The movie was surprisingly decent, as I was expecting it to be more middle of the road given the modern music choices that were made, and I dug the overall colorful look of things and the performances, especially
Leonardo DiCaprio
as
Gatsby
, he's really come into his own in the past few years for me.
We moved on to
The Walking Dead
before calling it a night, which I was thankfully able to grab on the
Direct TV DVR
box and watch without commercials. We finally called it a night and headed to the bedroom to crash for the night, since tomorrow is the big return trip.
We bedded down and I stayed up for a bit playing around with some stuff on the
Roku
, watching a handful of
Family Guy
episodes via
Netfux Streaming
before finally crashing out myself.
All in all it was a nice way to spend this, the day of my birth.
Be seeing you.