Broadcast Shame Monday
Smell That? It's Nostalgia!
Last night I went to sleep after reading another couple issues of
The Amazing Spider-Man Omnibus
off the nightstand, which continues to be a pleasant stroll down memory lane. I have to say it's actually made me wanna dig out some other titles from around that era, though I don't know for sure if they'd hold up as well as this does or not, considering it was the 'flagship' titles of the
Spider-Man
books of the time. I guess I could give a few a whirl and if they don't grab me they can go right back into the boxes, but it feels like a hassle to drag it out on the
assumption
that it might not be what I'm looking for.
The alarm went off this morning at 10:00, then I ignored it and dove back into the pillows to surface a few hours later, with the
Daylight Savings
shit still apparently playing hell with my sense of rest, as I ended up sleeping close to 12 freaking hours without any real excuse for it. The wife and pup were up and about, so I looked in on them, then got the house opened for the day and grabbed the newspaper with the
Yorkie
, which gave her a chance to check out the scene outside, scenting the air furiously to see what was happening in the neighborhood.
With it already being after noon at this point I visited with the wife for a bit about her plans for the day, which pretty much only involved dinner out with a couple girlfriends in the evening, then I decided to get dressed and go grab a bite to eat for lunch. The wife seemed to be feeling a bit better after taking it easy on
Sunday
, but still had some drainage issues, much like myself. I can only hope I finally feel 100% sometime this week, as waiting for this to pass is for the birds.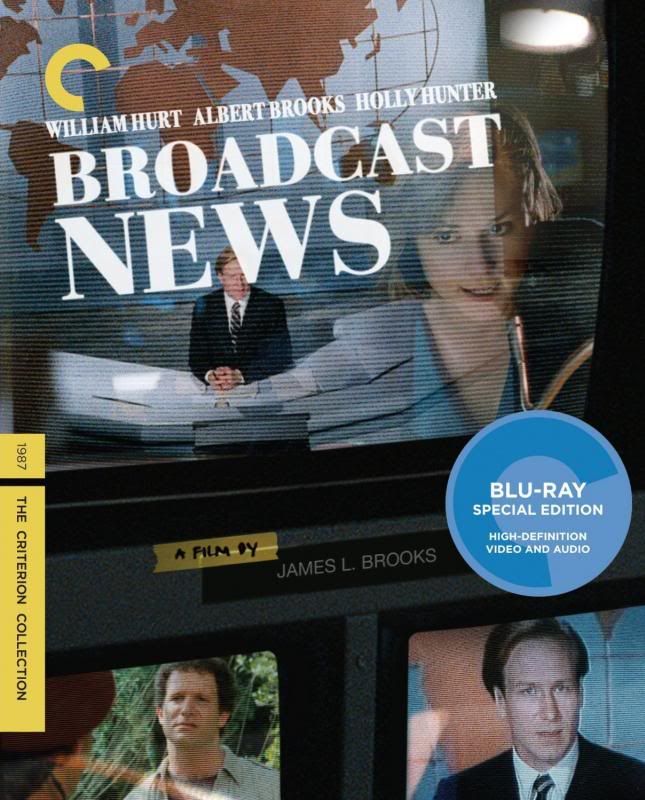 Except For Socially, You're My
Role Model.
I ended up picking up a burger and fries for my lunch, just because it sounded good, then headed home to eat and maybe try to squeeze in something for
Movie Shame Monday
, so I threw in
Broadcast News
off the
To-Watch Pile
. Having received a
Criterion Collection release
in the past year or so, it's something that I'd been meaning to finally check out, as I was pretty sure I'd never watched it in its entirety before. The film is a behind the scenes story of three up and comers in the news business, where we follow
Holly Hunter
as a producer who shares a great rapport with
Albert Brooks
as a reporter, but struggles with feelings for the pretty boy anchor played by
William Hurt
when he's foisted upon her suddenly. The movie is really well-written, and I have to say that overall it has a bittersweet tone, in that nothing works out exactly as you'd typically expect it to, even if all of those involved seem fairly content by the time credits roll. Definitely something I'm happy to have finally gotten around to checking out.
In the late afternoon I spent time on the
PC
getting some blog posts punched up and ready to publish, as I'm currently looking at stuff for late
January
as I type this and we're well into
March
, which is much further behind than I want to be on this stupid thing, even if it's all just a big vanity project that's read by a handful of folks at best.
The wife checked in with me in between getting ready to meet
JH
and her sister
BW
out for dinner, then she wrapped up her whole hair process and split to meet the ladies at a nearby
Mexican
restaurant and the
Yorkie
settled into her little bed in the
Office
at my feet, so I debated my dinner options and decided to just make some mac and cheese or something around the house, as my leaving would upset the dog and I wasn't all that hungry anyway.
It occurred to me that I was still a few episodes behind on
Supernatural
(now that it's recording properly again on the
TiVo
) so I figured I could play a bit of catch up on the
PC
, since the last handful of them are available streaming on the
CW
site. This process ate up an good hour and a half or so, and I was debating going back to check out that last episode that I was missing if the wife wasn't back from her outing, but she returned as I was putting the finishing touches on my dinner, so I let it slide and she and I settled into the den to catch the new episode of
Dallas
.
We moved on to this evening's new episode of
Archer
, then the wife called it a night as I gave the new episode of
Regular Show
a spin, since they're so short anyway, I figured I could squeeze it in without throwing off my evening all that much.
Here Are Your Robot
Overlords.
I got the wife and pup settled in bed, then spent a couple hours in the
Office
getting
Sunday
's post written and giving the various bells and whistles on
Firefox
a few tweaks, all of which seem to be working out pretty well so far. I guess I'll be using this browser for a few years, then it'll turn on me too and I'll migrate back over to
Chrome
and see what it can do for me. Weird.
I finally headed to bed and read for a bit in the
Avengers Assemble
collection I've been working on, which was a big saga about the
Ultron
character who apparently figures heavily in the next
Avengers
film, so that was kinda cool to see that character through the eyes of
George Perez
, who really has a great feel for these team books.
I'm out kids.
Be seeing you.