Boulder Day Four: The Shopping, The Traveling
After the sinuses naturally ruined my chances for a good night's sleep (since I hadn't been very good about taking the
Zyrtec
- that shit was almost making my nose
bleed
from drying things out) I was up from around 4:00 in the
AM
until a little after 5:00, looking at some stuff on the
ComiXology
app on the
iPad
, then I finally felt the last minute pill start to kick in and my drainage subsided enough for me to get a
few
more hours rest, finally waking close to 9:00 to find the wife on her
iPhone
looking at e-mails and texts. We snuggled for a bit, then I got up and grabbed a quick shower while the wife packed, then I did the same and we gave the room a final once over and headed downstairs to hit the road, since we wanted to spend a bit of time in
Denver
poking around and maybe grabbing a bite to eat before we had to be at the airport.
Yum.
The wife took us into
Denver
, comparing notes on the previous evening along the way, both of us having had a great evening once we finally had a spot to chill, and later when we had some time alone to chill in the bed and just relax - the entire experience was very...
uninhibited
, which was just fantastic. Great way to end the time away.
Our first stop was a place called
Denver Biscuit Company
for breakfast, which was pretty damned tasty if I do say so myself. The biscuits were huge and smothered in gravy, with optional eggs or other stuff that could be thrown into the mix. We both left stuffed, weighing the other places the wife had jotted down.
Seriously, It's A Freaking Warehouse!
I Wasn't Sure What To Expect.
Since I had mentioned
Mile High Comics
as being the only thing that occurred to me offhand that I might want to visit while we were in
Colorado
she was certain to add it to her 'to-do list' and we were soon at the
Jason Street megastore
, which is in a particularly oddball neighborhood that's mostly industrial and more of a literal
warehouse
on a lot of levels than it is a 'store' as one might normally use the terminology, with a nice glass front window sporting their business name and that sort of thing. The wife chilled while I wandered and poked around in the bargain boxes, as well as their new comic racks that stretched around a large portion of the back walls of the place. I had literally
two
books I was interested in maybe picking up and I'll be damned if the one guy I asked told me that if they had them, they'd be on the wall, where they were nowhere to be found. I have to be amused by this, because this is truly one of those stores that can be touted as possibly the largest comics stores in the world, yet the one (fairly recent) item I'm after is
nowhere to be seen
, so that's just how my luck tends to run. I eventually picked through their various $1 boxes and turned up a handful of
Spider-Woman
books that
John Byrne
and
Bart Sears
were involved in towards the end of the '90s, so I grabbed the first handful of issues just for the hell of it and checked out.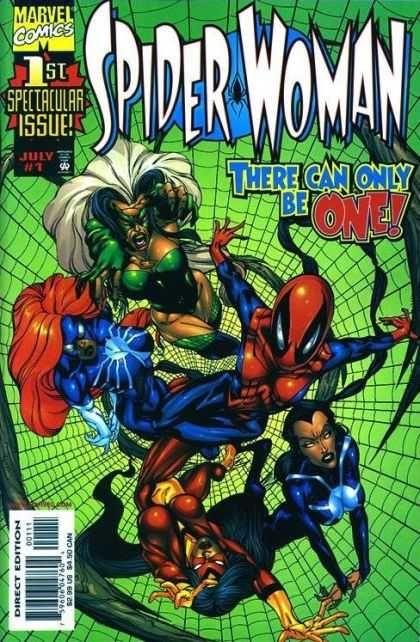 Confusing, Puzzling
Continuity....
The final stop that the wife wanted to squeeze in was a bookstore that she'd heard of called
The Tattered Cover
, which turned out to be basically
right back down the street from where we'd just ate
, so we felt kinda silly retracing our steps back to the same area, but oh well, it all worked out and we had some time to poke around before finally heading out to drop off the car at the
Hertz
lot and catch the shuttle back to the airport, where we followed what we thought were clear signs leading us up an escalator and then promptly
down the next one
to the same level, just around the fucking corner, which just adds to the weirdness of this place. Seriously,
NOT
a fan of this airport.
TSA
nonsense was busy as hell and ate up a decent enough amount of time that we had to kill before the flight, then we made the unholy trek to gate
B90
, which
has
to be a fucking half mile or so hike and just feels a little ridiculous once you're getting a beverage at a
Starbucks
and realize your only
halfway there
.
Jesus Christ
.
We had a short wait at the gate and then boarded last, since our seating was at the very front of the plane and it felt silly to rush on there to just sit around waiting for every one else to traipse past.
The flight was about an hour and a half, dumping us out at home right around 6:00
PM
in the evening with the time zones and all, then we gathered luggage and made our way home to see what the
Yorkie
was up to. She was ecstatic to see us and we loved on her for a bit, then unpacked under her watchful eye, getting all the dirty clothes sorted into the laundry baskets and everything else put away, then we went through the mail and eventually settled in the den to watch some television and look at the stacked up newspapers.
Fingers Crossed For Another Season...
After a couple
Simpsons
re-runs and this past week's
Family Guy
we moved on to the season finale of
Halt And Catch Fire
, which ended pretty well but still hasn't officially been renewed for a second season, so they at least ended it in a spot that I can accept as an end for things if that's how it works out.
The wife and
Yorkie
headed off to bed and I stayed up for a short time piddling with picking up the den and going through the last of the mail, then I headed to the
Office
to work on this blog post and get something published for the day, as I want to be in bed sooner than later, lest the jetlag start to mess with me.
We have some
Repair Guys
on tap for the
AM
to finally get the cosmetic damage in the sitting area near the kitchen taken care of, so I finally called it a night and headed to bed to read a few of the comics that'd turned up from
Things From Another World
and the stuff I'd grabbed cheap at
Mile High
earlier this afternoon.
I'm out kids.
Be seeing you.