Happy Halloween! (Or, What Do Ya Mean Yer Out Of Candy, Asshole?)
The job, as is its custom, sucketh mightily today, and I was quite happy to get out of there several hours early, because it was extremely slow and my neck
was/is
killing me. I blame the hotel pillows from the weekend, which were luxuriously soft...
at first
, then you sink down into them, and it's as if you're
laying on a fucking rock
, and after a few nights there, I was quite stiff in the neck, and then trying to re-adjust to the pillows back here at the crib has simply played further hell with things.
I was hoping to catch a warm shower and try to crash out without any type of pillows and grab a nap, hopefully straightening out things a bit, but this wasn't in the cards, and I got caught up in putting the finishing touches on the entryway to the house, repositioning things to suit me, and make for easier access to the treats so the little bastards don't bumrush the door. I was saddened to see that the stupid fog machine was D.O.A. when I took it out of the box, apparently a $20 item from Target isn't necessarily built to last from one fucking year to the next.
Money well spent, lemme tellya.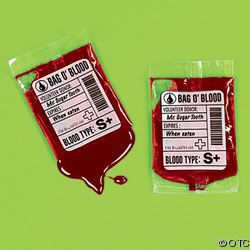 Our giveaway stuff this year was again some storebought candy mixed with some items from
The Oriental Trading Company
, who give us all manner of spiffy themed holiday gifts. We were surprised to find a supply of some of
last year's items
, which included a magic 8-ball pumpkin, and some strawberry candy in little blood-bags still chilling in the bottom of the cauldron we serve out of. We had a new toy as well, little skeleton paratroopers and an assortment of new candy. I recall trying one of the blood-bags last year, and thinking it was pretty disgusting, so I knew we needed to push those and get them the hell out of the house. I was also pretty confident that they couldn't have gotten any worse than they were last year.
Our trick-or-treaters always come in weird waves, one or two stragglers come by, then nothing for 20 minutes and all of a sudden fifteen at once, so I was being pretty generous at first, everyone got two items, the blood-bag and something chocolate, but as the numbers started to mount, I started getting a little stingier with things, and dropped back to one item per person. I was also quite pleased to get several different people commenting on the blood-soaked decorations and set dressing, I definitely want to do more with it next year. There was the usual amount of kids wearing nothing but street clothes and carrying a crumpled Wal-Mart sack rather than an actual costume, but who gives a shit, right? I mean it's basically condoned begging, so why am I gonna quibble with who's playing by the rules and who's not? I
was
a little amused to give one of the paratroopers to a woman who was
45
if she was a day, but at the
very least
she was dressed in some kind of witch outfit, so what the hell, enjoy your toy, lady.
We were getting into some dire straights for about 45 minutes this evening, as the candy supply was dwindling fast, and the kids kept coming, so in rummaging for possible treats we came across a bag of SweeTarts individual snack-sized packets, left over from this
past Valentine's Day
, and out the door they went, I mean, candy's candy, right? While all the parents are busy worrying about whether or not anyone has been
tainting
their child's treats, I simply slip them the expired shelf-life stuff and hope for the best. I'll keep you posted if I see any news stories about children reporting stomach problems in tomorrow's newspaper, but really, what are the odds that they'll be able to trace it to a
specific
candy or household.
Those
C.S.I.
fuckers are pretty good though...I may actually be in trouble.
Having posted
awhile back
about the
After Dark Horrorfest
series of films, I was happy to discover which film amongst the eight involved featured the creepy image that I had stuck in my head from their trailer for the festival itself.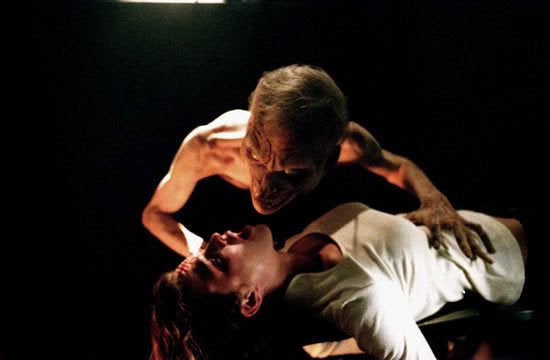 It's apparently from a film called
The Gravedancers
, and a full trailer for it can be
seen here
. I could only find one image of the creature in question, but it sort of does the creep effect justice, it reminds me a lot of the Zuni Fetish Doll from the
Trilogy Of Terror
series, only this one is
fucking life-sized
. The trailer seems intriguing, and I like
Tchéky Karyo
in most things I've seen him in, so I'm thinking this may be worth a look.
There have been a few reviews straggling in over at the
Big Suck Loser
, check that out if you haven't recently, and I'm planning on writing a few things over the next few days off, just to prove to myself that my log-in over there is still valid.
Be seeing you.
Labels: After Dark Horror Fest, Big Suck Loser, Candy, Decorating, Halloween, Movies, The Gravedancers