Should Auld Acquaintance Be... Ah Who Gives A Shit, It's Late...
So I opened the blog window at 7-ish this evening, as I knew I wouldn't be back until way late.
It's now 2:45 in the AM of the new year, January 1st, 2007, which is pretty damned late when you consider the six
Guinness
consumed on top of a diet this evening that consisted of mere snacks.
This said, the day, briefly:
The wife and I had lunch out at a roadhouse/burger joint type place, then went shopping and picked up odds and ends for the party this evening. We dicked around with cleaning and set-up for the event, and started getting ready around 6:00 in the evening.
Robbb
showed up early with some food he'd been nice enough to make,
Daveyyojimbo
and
Blancodeviosa
shortly thereafter. We ate a bit, and
Anastasia Beaverhouszen
and her hubby, Kno1 on the blog here, came by, then Robbb's sister and nephew, who I'd not seen in quite some time.
As we settled in and started snacking and drinking, we waited out our last two parties, which included the matchmaker hairdresser who introduced K and myself, as well as her girlfriend, my own hairdresser, and the
Dachshund
and her new lady, who just so happens to be Robbb's cousin, who I'd not seen in several years.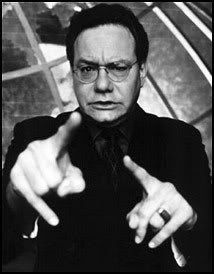 Our ladies finally showed and we had a great time, eating and drinking with an eye on the stupid
Dick Clark special
which featured nearly no Dick Clark, then our own late night
Mystery Science Theater
rendition of
2001 Maniacs
, which proved to be very entertaining with a crowd. We closed our evening with a nice amount of cynicism from
Lewis Black
with the
Red, White And Screwed
special that was re-run on HBO.
A good time was had by all, and we called it a late night.
Happy New Year, kids.
Be seeing you.
Tag, you're it, Baggy Eyes!
Guinness
,
New Year's Eve Party
,
Dick Clark
,
Mystery Science Theatre
,
2001 Maniacs
,
Lewis Black
,
Red White And Screwed
Labels: 2001 Maniacs, Comedy, Drinking, Guinness, Holiday, Lewis Black, Movies, New Years, Party, Red White And Screwed, Snacking