Wii, Wii, Wii, All The Way Home
Because I'm a total whore for a pun...
The wife's birthday week kicked off in fine fashion, because she had a nice little package arrive in today's mail.
Awhile back, K expressed what I would consider the most random of interests in owning a
Wii
, which was odd to me since we've never played a video game in the 3 years we've been together, and the only evidence of a history of gaming in her life is a box I remember seeing in the top of the media closet hidden behind a stack of dusty VHS tapes, which contains what is evidently a
Nintendo 64
system and a handful of cartridges according to the box label.
I thought very little of it when she mentioned wanting one, because out here in the middle of West Texas there's not really one to be easily had as
Best Buy
runs through whatever handful they get in each week in a matter of hours from what I've heard discussed amongst their disappointed customers. I figured it was a weird curiousity on her part about the game system itself that was making so much news, and kinda forgot about it for a couple days.
She then mentions in passing that she'd gotten on some kinda waiting list online to buy one, along with some kinda accessory and game bundle, and I again figured that nothing would come of it, as the things are in short supply.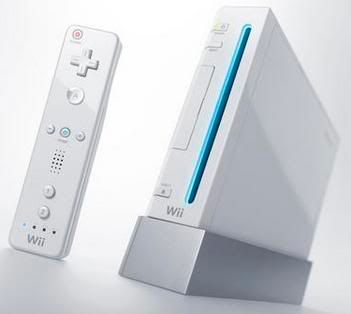 Long story not even
close
to short, we are now the proud owners of a
Wii
and all the trimmings, and I don't even want to know how much money she spent on it, considering how little I anticipate it being used, but it was her little birthday treat to herself and she's quite pleased with it, so I'm glad she's happy.
We spent the afternoon playing around with the different games in the assortment of what came with the system and what was in the bundle of stuff she bought, and as someone who never really played video games in my youth, I have to admit to being quite impressed with the wireless controllers, they are amazingly responsive. I will also say that playing the lil' boxing game included in the sports pack, and basically shadow boxing with the controllers in mid air for a couple rounds is a pretty damned decent aerobic workout, and I'm fairly certian my shoulders will be sore tomorrow from the effort.
The dog doesn't quite know what to make of the wireless handheld device, and has been barking at us while we've played, I think it might be that she sees us swinging it about and thinks we're trying to play fetch with it but refuse to
throw
the damned thing.
Once we get the wife's birthday taken care of later in the week and get things back to normal around the house, I suppose I can look into some sort of horror-themed game to try and give myself the willies with on the new device, but from what I've looked into tonight there's not a lot out there right now.
Be seeing you (possibly suffering from
Wii-elbow
).
Tag, you're it, Baggy Eyes!
Personal
,
Birthday
,
Wii
,
Video Games
Labels: Birthday, Personal, Video Games, Wii