What Kind Of Burger Joint Is This, Anyway?
The wife spent a lot of time going through her stuff in the front bedroom today, which has involved an ongoing sorting process for personal papers, periodicals, and assorted books that've been thrown into the mix. The
Yorkie
is ecstatic about this activity in the front of the house, her puppy bladder never allowed for her to have the run of the house, but she's now getting to take the occasional field trip into the forbidden zone while her mother cleans and gets the house ready for the showings that are coming next week. That's right, we'll be showing this turkey after the 5th of July, this whole idea of moving is becoming more and more of a reality.
I keep looking around this room alone and remembering that I had at least 6 enormous boxes of books, etc. in here alone, that doesn't even consider the shelves in the front hallway.
I myself put off laundry another day just because I'm an idiot and refuse to do anything today that can be put off for as long as possible. I'm still wearing clothes that aren't embarrasing, so we can't be
that
far into the closet yet. I know I'm doing okay as long as I can see stuff I've bought in the past few years, I get nervous when it starts getting into the stuff I haven't worn since the late 90's.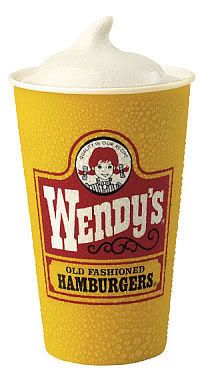 We drove through
Wendy's
for their newest bacon-loaded concoction,
because
fuck healthy
, and there was a small blue sticker on the drive-through window that I found very puzzling. The sticker said something along the lines of "this
Wendy's
is
Rated G
, you can expect an all ages environment for our customers and employees", leading me to the obvious question: Where's my local R Rated
Wendy's
? A place where there may be some brief nudity and adult content without any kind of warning, and my
Frosty
dessert treat
may come with a slew of swearing that'd make a sailor blush?
I wouldn't eat at the
X Rated
Wendy's
, for the same reason I wouldn't eat at a strip club, do you
really
think anyone there can fucking cook?
I was informed this afternoon that my friend
Buckaroo Banzai
, a man who is amazingly chatty about any of his interests when you see him in person, but apparently unwilling to commit those opinions to
his blog
has instead begun a
podcast
. Give it a listen and encourage him to effuse about all his latest interests, he's usually good for a laugh and to point you in the direction of something new to waste your money on.
I'm out.
Be seeing you.
Tag, you're it, Baggy Eyes!
Personal
,
Household Chores
,
Moving
,
X Rated Wendy's
,
Podcasts
,
Geek A Rama
Labels: Geek A Rama, Household Chores, Moving, Personal, Podcasts, Risque, Wendy's, Yorkie