This Must Be What Turtle's Life Is Like...
Oh em eff gee.
Do you ever get stuck in the house with one of those friends who doesn't know when the party's over? That's the tight-lipped false smiling situation we've been held hostage with for the past three hours, so I'm starting this bullshit late
yet again
.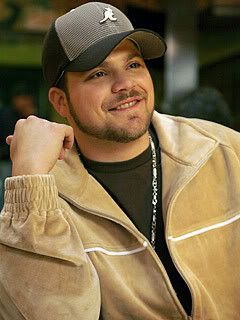 But first, let's go over the beginnings of the day, and the post title itself.
Turtle
is the character played by
Jerry Ferrara
on the
HBO
series
Entourage
, and he functions primarily as the driver for the group. I did a shitload of driving today, for three different sets of friends and loved ones, and it was a weird feeling, although I actually do quite enjoy driving most of the time.
I hadn't set my alarm today, so I woke early when the
Yorkie
was barking at the wife while she showered, figured that I would get woken
later
by my phone and went back to sleep. I wake at 11:45 when a couple of our lawn guys are standing right next to the master bedroom window chatting away in
Spanish
, the
Yorkie
vigorously attacking the kitchen window from the other corner of the house that looks out on them. Annoyed that I'd overslept and that the guys seemed to be agitating the dog by just hanging out in the corner, I got up and sleepily took my handful of vitamins and pills in the kitchen. Once they caught sight of me they seemed to be suddenly done with whatever they were working on and split pretty quickly. I can only guess that they either
happened
to finish, or were just hanging out and milking things until lunch, annoying the
Yorkie
in the process.
Robbb
called to see if I could take him to pick up his vehicle when he got out of work at 4:00 in the afternoon, which I agreed to,and then called
Macguffin
on a wild hair to see if he wanted to have some lunch. He was game, so I got dressed and headed over to
Odessa
, where I picked him up and we had some
Mexican
for lunch, then grabbed
Starbuck's
afterward. We were on the way back to his house when
Robbb
called, saying that he was getting out of work early, at 3:00, which gave me about 20 minutes to get back to town and get him.
Mac
agreed to do a ride along and we dropped off coffee to his wife at the house and let her know what's going on, and then left town. Aside from a near miss with a woman in my blind spot when I merged onto the
Loop
outside of town, the drive was uneventful, but
Holy Christ
, I've never come so close to owning a
Cadillac
before in my life. We picked up
Robbb
, drove him across town and dropped him off at his car dealership so that he could get his vehicle, now with that fresh 'new-fender' smell.
I hit the drive-thru at
Baskin Robbins
for
Mac
so that he could get another coffee drink, and then took him home, turning right back around and heading back to
Midland
. I knew that the wife should be finishing up with her charity thing around the same time, so I would like to get home and catch up with her for a bit before we had to go out to dinner, plans that'd been made without me earlier in the day.
I beat her home by about 10 minutes, we kicked off our shoes and lay in bed visiting for about an hour before
Brian
came by at 6:00, then went to pick up the wife's friend
Blather
, who was in town and unfortunately quite unavoidable. Holy shit kids can this woman hold court about all things
her
; she can go for
hours
about what she finds the most intriguing in the world, and it's all
her, 24-7
.
Jesus
it is exhausting, but I knew there was no avoiding it, so away we went. We took my car and picked her up from the relatives she's staying with. I was alarmed to find that she was slathered in some scent so cloying and sweet that I had to crack open the fucking sun roof immediately and hope to suck some of it out before it made my eyes water and my nose run. I'm very sparing with cologne, and I despise it when women marinate in that shit, it's just obnoxious, especially in close quarters like a car.
We had dinner at the
Italian
place downtown that
everyone
in town seems to favor that always leaves me feeling like I'm out of the loop. It's not bad food, it's just not
all that great
either, and it's crowded on any weekend, so I just don't get the appeal, it must be at least 40% nostalgia or something to account for the mass appeal it has to natives of this area. I just wasn't introduced to it at the right point in my life for me to enjoy it as much as everyone else seems to.
We made our dinner guests go birthday shopping for the wife's nephew afterwards, so I drove us to
Best Buy
, where we looked for a little hand-held gaming system that we thought a 6 yr old could handle. They were sold out of the one we wanted, except for pink ones, so the wife picked up a game for herself and we hit the checkout. I found myself annoyed by a teenage/early twenties looking kid who was eyeballing our entire group with more than a little passing interest as we walked up. I'm not sure what his deal was, but I found myself just staring him down at one stage for no other reason than because I was already in a pissy mood and I didn't like him taking what I took for a smug inventory of us as we walked up. Fucking alpha-male bullshit, if I'm over thirty and end up in a fist-fight in a retail store because some idiot is gawking at me, maybe you should just shoot us
both
in the head, throw us in that dumpster out back, y'know?
Jesus
.
We ended up at
Toys "R" Us
, who had an assortment of colors, so we grabbed it and a couple games and a gift bag to put it in and we were done with our only errand of the evening.
A conversation in the car led us to
Starbuck's
for coffee, and then no one had any better ideas for what to do, so we somehow ended up back at our house with
Blather
in tow,
Brian
getting suckered into dropping her off when he left. I tried to avoid this, even taking a route that put us
right by
her
Grandparents
house where she's staying, but she didn't take the fucking hint and the wife was on the phone at the time and was unable to start saying any kind of goodbyes that'd give a proper finality to the night.
Back at our house I played with the
TiVo
a bit while the other three visited, I yawned, I fidgeted and even went so far as to go and change into my lounge clothes to give the impression my evening was over, but I'll be
Goddamned
if we didn't have that broad here yammering about her life, ex-husband, current husband, children, family and anything else under the sun until about 11:30 at night. Everyone was yawning except her, even the fucking
Yorkie
, I shit you not.
Take a hint.
Fuck me in the guest ass, get the hell out of my house!
Be seeing you.
Tag, you're it, Baggy Eyes!
Entourage
,
Yorkie
,
Lunch
,
Annoying
,
Friends
,
Dinner
,
Shopping
,
Male Aggression
,
TiVo
,
Frustration
Labels: Annoyance, Dinner, Entourage, Friends, Frustration, Lunch, Male Aggression, Shopping, TiVo, Yorkie