My Inadvertent Horror Trend Of Late...
Robbb
was leaving town today for a trip to
Seattle
, and I'd made plans to give him a ride to the airport. The wife, who will be president of one of her organizations next year had a meeting most of the day as a result of her presidency, some kind of leadership thing. She was already out of the house by 8:30 this morning, so I was still snoozing when
Robbb
called me shortly before 10:00 to verify plans.
I got up, checked e-mail and dicked with
Twitter
a bit more, that may've been a mistake to start playing with, but whatever, I can always shitcan it if I end up spending too much time with it. The way I figure it, since it is a public thing (I haven't set anything to where only friends can see it) maybe frequent blurbs mentioning the blog address will drum up some more disinterested people to wander by here.
I dressed and went by
Starbuck's
for a coffee to kill some time on the way to pick up
Robbb
at the allotted time, then headed to his place. He was happy to head to lunch earlier than we'd planned, so we met his boss
J
at a burger joint located on the way out of town, where we ordered and then waited about 35 minutes for three hamburgers and fries to be served to us. I don't know if the kitchen crew is just inept, or if they have a single
George Foreman Grill
back there cranking out 2 patties at a time that takes them so fucking long, but we were on our last leg by the time the damned food came out.
J
headed back to work and I ran
Robbb
out to the airport and sent him on his way.
Heading home, I called
Macguffin
since I hadn't spoken to him in forever, bullshitting with him on the way back into town.
I'd been home only a short while when the wife came home for the day, which was nice. She and I watched one of the flicks I have to review for the
Pop Syndicate
folks, the new
Woody Allen
film called
Cassandra's Dream
. It was a pretty decent little flick, though I found the ending a tad rushed, still a solid little crime drama, worth a look.
I wrote a quick review to submit to them later tonight while the wife took a short hour long nap, the early morning catching up to her.
We went over to the
Grandmother
's house at 6:00, to meet the
Mother In Law
there for dinner and possibly a movie if they felt like it. The
MIL
had brought the
Helen Mirren
version of
Elizabeth I
over and after dinner I opened it and started to remove the disc. Mind you, this is something I've done thousands of times, removing
DVD
's from their packages, hell probably thousands of time THIS YEAR alone, and the disc promptly
snapped in half
rather than come free of the little plastic center peg. I was stunned, I've had a disc bent almost
in half
before, but nothing has ever come close to actually breaking. She was cool about it, said she'd exchange it and fib about it being packaged that way, but without a receipt I don't know if that's possible, since she bought this at least a month ago. I felt awful about it, and I see me just replacing the
DVD
the next time I'm in
Best Buy
.
The movie a no-go, we kinda called it an early night and headed home. The wife and I watched a
TiVo
'd episode of
The Soup
from last night, then popped in a flick from
those rental throttling pricks at

Netfux
.
The Beast Of Bray Road
was a weirdly campy little flick that was obviously produced on a limited budget.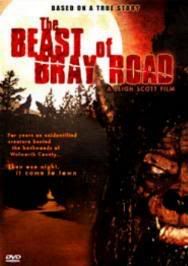 I know the company name (
The Asylum
) at least in passing, but couldn't remember in what connotation. Having just now done some Googling and dug up that
DVD
cover, I'm relatively certain that I added this to the
Netfux
queue whilst searching a specific term like 'werewolf', because there's no way in hell that this cover would've ever sold me on the idea, it just looks too silly. The movie
was
pretty corny, but it actually made the wife and I laugh in the right spots, and there's plenty of goofy moments to heckle as well. It seemed like every guy in this film was fairly buff, and most of the women looked like strippers, and not those top shelf
Vegas
strippers with the freaky implants, but the kinda grungy ones that are still a little hot, but kinda skanky as well. You know the kind I mean.
But I digress.
The film was corny fun, I'm actually going to try and write a review for the
BSL
later in the weekend, but it also got me thinking. Between the short films I watched as a double feature last night (which were from a company called
Low Budget Pictures
) for review on the other site, and things like
Teeth
and
Blood Car
, which we watched over the past few weeks, I've noticed an odd trend coming to the surface. I've been watching a lot of horror with a comedic slant recently by no real design, that's just how it's happened to come along.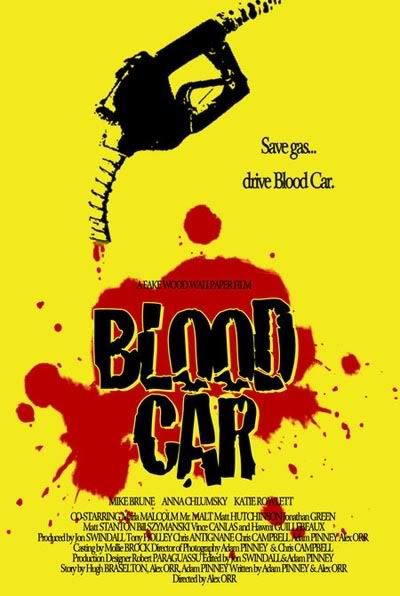 I wouldn't actually mind owning both
Teeth
and
Blood Car
, just because I watched them almost back to back and wouldn't mind giving them another look at some point.


Blood Car
in particular gets big points for all of the unexpected moments, especially the chick's line about screwing in a car, something about "...being up above everyone else,
tackling dick like a princess
.." That line just killed the wife and I, it was so out of the blue and weird. Hell, even stuff like
The Cottage
is riddled with humor, so I'm really not sure how long this has been going on.
I feel like I may need to check out something a bit more straightforward and disgusting, if not just downright scary simply to cleanse the palate a bit after all the tongue in cheek stuff we've been through recently.
I'm out kids.
Be seeing you.
Tag, you're it, Baggy Eyes!
Twitter
,
Movies
,
Reviews
,
Pop Syndicate
,
Cassandras Dream
,
Woody Allen
,
Writing
,
Dinner
,
Television
,
The Soup
,
Netflix
,
Beast Of Bray Road
,
Teeth
,
Blood Car
,
The Cottage
Labels: Beast Of Bray Road, Blood Car, Cassandra's Dream, Dinner, Movies, Netflix, Pop Syndicate, Reviews, Teeth, Television, The Cottage, The Soup, Twitter, Woody Allen, Writing