Cinematic Sunday Fifty-Two
The wife and I slept in a bit today, then she woke me around 11:30 with brunch plans that she'd made with
Morris
and his buddy
S
. I brushed my teeth, shaved and dressed in a hurry, but still had plenty of time before they arrived.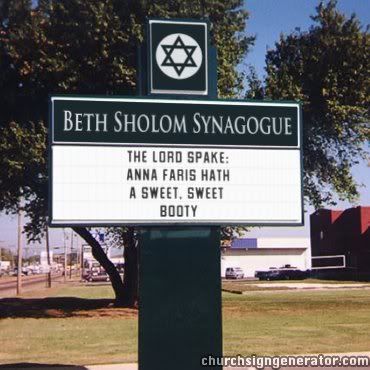 They'd apparently had a flat this morning on
Morris
'
Jeep
and had to get that taken care of before they could come into town. While we'd waited, we'd also invited the wife's friend
The Lobbyist
out for brunch as well, so we visited and waited for her to arrive, then I drove us to the little place downtown to eat.
Brunch came and went, our waitress seemed less than enthused to be dealing with us, but the little fruit bar and cinnamon buns made up for it.
The wife and
The Lobbyist
had made plans to go and see the new
Anna Faris
flick,
The House Bunny
, so we dropped
Morris
and
S
back at
Morris
'
Jeep
at our house, then booked ass across town to catch the 2:00 showing. The flick wasn't anything special, a lot of obvious humor, but I admit to laughing a few times, and
Faris
looks amazing in her little skimpy outfits, she must not have eaten anything at all during the course of filming. That said, I'm kind of ashamed to admit that this is the one summer film I've seen besides
Iron Man
.
We hit a
Starbuck's
on the way back to the house and then chilled out and watched some television and made fun of whatever was on
E!
for awhile until
The Lobbyist
headed to her house to spend some time with her mother.
I popped in a copy of
Sugar Hill
that I'd bought awhile back, to check out the quality of it, as it was a weird import disc with about half of the
DVD
notes in
Chinese
. It turned out to be a pretty decent copy, at least as good as what we'd seen run on
TCM
several months back, so that was a relief, I was expecting a lousy
VHS
bootlegged transfer; I was pleasantly surprised.
The wife crashed in some weird ass early evening nap around 6:30, so I decided to hit the interweb and get this junk written while I had the free time, since the
Fox
animation stuff is all re-runs anyway.
Here's what I turned up that looks interesting this time around:
First up we have a film called
The Burrowers
, a horror film directed by
JT Petty
that sounds like an interesting take on a
Tremors
-style threat in the
Old Wes
t. A town is menaced by strange creatures that only attack the humans and animals, leaving all valuables behind. Check it out and forgive me that the only version I could find is promoting the website that hosts it over on
YouTube
, so try to ignore the whole 'watch movies etc.' arrow that pops up there for a few seconds.
Next up is
Passengers
, a film by
Rodrigo Garcia
that stars
Anne Hathaway
as a woman counseling the scant few survivors of a plane crash, who begin to disappear under mysterious circumstances as one of them exhibits strange, almost supernatural abilities.
I heard a mention of
Last Of The Living
over on
Mail Order Zombie
earlier this week, and I decided to track down the trailer. While the general zombie set-up seems pretty standard, the presentation of this
New Zealand
production really grabbed my attention, as I'm a total whore for a stylish take on an established genre or theme and some of this editing reminded me of
Guy Ritchie
's editing style. Give it a look.
I close this evening with a film I hadn't heard of until I received an e-mail from a company promoting it, encouraging me to check it out. The film is called
The Boy In The Striped Pajamas
, which is about the friendship that develops between a couple of young boys on opposite sides of the fence of a
German POW
camp. It's directed by
Mark Herman
and stars
David Thewlis
, who I believe I've described before as being '
Satanically Ugly
', and I doubt a turn as a
Nazi
will do much to change my opinion. The film looks like a real tearjerker (Read:
wholly depressing
) in spite of how sweet the kids relationship may be, and arrives in early
November
in time to depress you for the
Holidays
. Cheers!
Be seeing you.
Tag, you're it, Baggy Eyes!
Brunch
,
Movies
,
The House Bunny
,
Anna Faris
,
Iron Man
,
Sugar Hill
,
Trailers
,
The Burrowers
,
JT Petty
,
Tremors
,
Passengers
,
Rodrigo Garcia
,
Anne Hathaway
,
Last Of The Living
,
Mail Order Zombie
,
Guy Ritchie
,
The Boy In The Striped Pajamas
,
Mark Herman
,
David Thewlis
Labels: Anna Faris, Anne Hathaway, David Thewlis, JT Petty, Last Of The Living, Mark Herman, Movies, Passengers, Sugar Hill, The Boy In The Striped Pajamas, The Burrowers, The House Bunny, Trailers