The Halloween Will be Blog-I-Vized...
1:45 PM
I don't know if this is a good idea or not, but since I'm taking the afternoon and evening to fuck about and do nothing (as if that's a change from any other day), I thought I might try to start a post and then infrequently update it with new timestamps over the course of the afternoon and evening as we get further into horror movies and trick or treaters.
I'm starting this off on the
PC
in the office, but I'll fire up the laptop later and give myself the freedom of motion to roam the house and update on the fly.
For now, here's everyone's favorite
Halloween
tune to make you pull out your eyes (or melt your head into a pile of snakes and beetles):
2:05 PM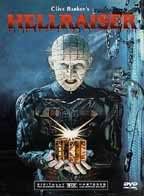 Settling into the den to re-watch
Hellraiser
, quasi-regretting not picking up the 20th anniversary re-release that was on sale at
Best Buy
for $7 last week, but I just couldn't justify spending the money for something I already own, particularly when it'll get a
Blu-Ray
release sometime soon.
2:09PM
Actually, I'm not sure how good those fake latex-y flesh bits will look in hi def anyway, they look a little silly and fake in the version I own right now, 1080p probably won't do them any favors.
2:16PM
Ah, the divine
Ashley Laurence
and her 80's fashions and hair.
2:25PM
Man, that
Julia
's a randy bitch, isn't she? And
Larry
bleeds strawberry sauce, his blood's so thick.
2:30PM
Frank
's re-birth a deliciously goopy and gross affair, really great practical effects for the time.
2:35PM
Homeless guy in this film looks extraordinarily like
Alan Moore
, if he'd made some snide comments about
Hollywood
raping his visions, I'd be convinced it was him.
2:46PM
Y'know, since she's actually killing stangers for him, you'd think
Frank
would drop the whole "Don't look at me!" bitchy routine with
Julia
. Oh wait, now he has,
Mr. High N' Mighty
since he has organs again wants to touch her and cuddle. Yick.
2:51PM
Homeless
Alan Moore
eating bugs. Still not 100% convinced it's not
Moore
.
3:03PM
Ashley Laurence
's hair is a big giant mess in this film. It's an
appealing
mess, but they obviously spent their budget on make-up and couldn't afford a hairbrush for her trailer. And ew at the incestous
Uncle Frank
giving her the "Come to Daddy" routine.
3:12PM
Finally, some real
Cenobite
action as
Kirsty
opens the box.
3:23PM
It's pretty easy to forget how little screen time the
Cenobites
actually have in this flick, I'd guess maybe 15 minutes in the entire 90 running time
at the most
. Amusing to make a film about demons and the villians turn out to mainly be the skinned
Uncle
and
Step-mother
for the majority of the film. I have to give it to
Barker
, his direction is very confident and assured in this movie, there's a good deal of gore and perversity even all these years later it holds up quite well.
3:33PM
Amusing to see
Pinhead
dispatched before any of the other
Cenobites
, and then that final cornball flaming dragon creature ending, really the only big misstep for the film. Well, that and
Kirsty
's love interest looking a bit like
Alan Cumming
.
3:48PM
Taking a break to make myself a late lunch, halfway listening to/watching
Rosemary's Baby
on cable frm the kitchen counter. I still can't say for sure if I've ever watched this film in its entirety. I certainly don't find
Mia Farrow
all that enchanting, and these old people are creepy as hell; it's no wonder I don't trust the elderly.
4:02PM
Food ready, I'm going to scarf that down and see what else is on
TV
until the wife and I have to go and drop off treats for the
Sister's
kids, as they can't be bothered to stop by here today. So much for the trick or treat ritual, we have to deliver shit now.
4:27PM
Started then stopped
The Exorcist: The Version You've Never Seen
so that we can go and run this stuff to the
Sister
's house. I do't know if there are any
Exorcist
purists out there, but don't get on my ass about the re-edited film, it was what was in the $5 bin at
Wal-Mart
last year, sue me. I'm happy to learn that the wife hasn't seen this in its entirety, so I have that to look forward to when we get back. Plus, the film opens in good old
nostalgic
Iraq
, back when
American
s could still go there and be archaeologists without someone taking a hacksaw to their necks.
5:25PM
Finally back from the
In-Laws
, why it takes an hour to drpp off a couple of goodie bags is beyond me. Ready to settle in to watch
The Exorcist
and wait for the beggars, excuse me, trick or treaters. The Yorkie is ready to bark her little ass off.
5:39PM
The hits keep coming: we just got a call from a restaurateur friend of the
Mother In Law
telling us that she's out at her cafe acting weird, but assured the wife that they could coax her out the door so that they could close. I wish to
God
that woman would get her shit together.
Meanwhile,
Ellen Burstyn
is leading a quiet life, unaware of what's in store for she and her daughter.
5:55PM
I'd forgotten how long it takes this film to really get going. On an unrelated note,
Father Karras
sounds a lot like
Brando
in
Apocalypse Now
with his world weary inflections.
6:10PM
Aaaannd
Regan
pisses the carpet, we're officially into possession mode now.
6:25PM
Christ, the actual medical bits are worse than the exorcism, that hasn't changed any....
6:43PM
Man, this is really a slow burn, I might've screwed myself with this choice of film. I want to try and squeeze something else in later, I'd better make it somethinhg else a little faster paced. The wife made a
DiGiorno Pizza
, which I braved a piece of because I was still hungry, it didn't go down so bad.
7:00PM
Burstyn
saying the f-word so many times when talking to a priest makes me wonder if she knows that she can catch more flies with honeythan with vinegar.
7:16PM
Full dark outside now, no sign of any trick or treaters, I'm having the feeling like someone who's been stood up for a date right now...
7:21pm
Now we're in business, the first two princesses of the night.
7:53PM
After a few friends and family started the evening, we had a run of maybe 40+ kids, so I feel at least a little better about bothering to decorate. Several
Batmen
, a couple
Hannah Montanas
, it's an interesting turnout. I was fully expecting a shitload of
Joker
s this year, I haven't seen a single one. There was a girl dressed as a pint of
Ben & Jerry's
though, that was funny.
8:06PM
We seem to be moving towards the older, straggler kids, jr. high and older in ages as we get into the 8:00 hour, though I just had a very young and freaked out
Hulk
who wasn't all that interested in candy once he got a look at the decorations. I like a scary decor, but it can be a little much for the tiny kiddos.
8:15PM
Interesting pairings this year, who'd have guessed that
Dracula
even knew the
Transformers
? Oh, and we're still in the last 20 minutes of
The Exorcist
, that's been going on for what feels like a week now.
8:21PM
The
Joker
, finally. My
Halloween
is complete. Oh, and way less fucking
Pirates
than last year.
8:34PM
I swear to
God
, I just saw our 4 lb. dog scare the hell out of a little five year old boy when he knocked on the door and she sprang up barking at him, which is funny when you consider the difference in sizes.
8:46PM
Just popped in
Halloween
for a re-watch, laughing at
Judith Myers
' boyfriend's lack of stamina, he's upstairs for a whopping minute and a half before leaving fully dressed. Or maybe he just couldn't close the deal.
9:12PM
I think we're probably done for the night, our last straggler was a friend of the wife's from one of her non-profits and her little daughter. This woman is the daughter of a guy I used to work for and I used to have a crush on her back in the day, and now she wants to be the wife's new best friend, which I could totally pass on, as I don't need anyone I used to think was hot to have any part of my current life, y'know?
I think I'm settling down to watch the rest of
Halloween
.
9:46PM
Holy crap, we just had a couple of kids and their mom stop by, the kids must've only been about 3 at the oldest, why the hell are they still out this late? I mean, I know it's a weekend and all , but at 3 years old, still wandering the streets? Yeesh.
10:39PM
Evening officially over, I'm calling it an early night and heading to bed to watch the
DVR
'd
Ghost Hunters Live
thing until we fall asleep.
I'm out.
Be seeing you.
Tag, you're it Baggy Eyes!
Halloween
,
Blogging
,
Time Sink
,
Movies
,
Hellraiser
,
The Exorcist
,
Television
,
Ghost Hunters
Labels: Blogging, Ghost Hunters, Halloween, Hellraiser, Movies, Television, The Exorcist, Time Sink