Hunting And Pecking My Little Heart Out
So the wife and I are still together, which is nice. We ended up talking things out late last night/early this morning, so we lost some sleep but at least went to sleep not pissed off at one another, so that's something I suppose.
We had the
Maid
in today, so I spent most of the day in the
Office
working on a couple reviews, one of which is now up for your viewing pleasure over at the old
Big Suck Loser
, if you're into that sort of thing. The wife had errands in the early afternoon, then she got back a little after lunch, so we visited a bit, then I got back to the writing and let her deal with some e-mails of her own on the laptop while the
Maid
finished up.
Shortly after we got the
Maid
out from underfoot the wife had to head back out for more meeting stuff, so I piddled with some laundry and then popped in a flick for a re-watch, as two of my podcasts had suddenly decided to review it recently.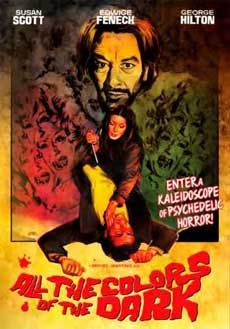 All The Colors Of The Dark
is something I'd
watched
and reviewed ages ago, and since I'd noticed how easily certain
Edwige Fenech
films go in and out of print I've been picking up cheaper copies from
Amazon
dealers when I happen to notice a bargain. This film had arrived in the mail a few weeks back, so when I noticed that two of my favorite shows were reviewing it within a week or so of one another I decided to give it a look to refresh my memory before listening. The film held up really well, I need to make a point of checking out more stuff from director
Sergio Martino
, I know I have at least a few things by him in the
To-Watch Pile
, so maybe I can make that happen sooner than later.
I made myself some pasta for dinner since the wife was going to be tied up until fairly late, then popped in something from
Netfux
to pass the time while I went through the newspaper and mail from today.
Law Abiding Citizen
wasn't anything to really write home about, but it was an okay way to pass a couple hours, as I wasn't expecting too much from it. I'm actually kind of amused that everyone is shitting all over the movie over on
Rotten Tomatoes
, but I've also noticed that I don't have a lot in common with most people as far as movies go, so who knows what these critics were looking for when they watched it. I got some violence, some silly plot twists and
Jamie Foxx
being a cocky ass through most of the film, but it's a breezy little affair, so no harm, no foul in my book. Oh well.
The wife got home as that film was ending, we watched
Lost
to avoid any spoilers on the web, then she headed to bed, which I'm about to do myself. The wife leaves tomorrow for a conference and I will be up early to drive she and a friend to the airport.
Be seeing you.
Tag, you're it, Baggy Eyes!
Maid
,
Writing
,
Movies
,
Reviews
,
Big Suck Loser
,
All The Colors Of The Dark
,
Edwige Fenech
,
Sergio Martino
,
To-Watch Pile
,
Netflix
,
Law Abiding Citizen
,
Jamie Foxx
,
Television
,
Lost