Sell Crazy Someplace Else, We're All Stocked Up Here
What a pain in the ass of a day.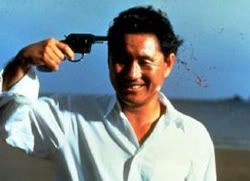 We had issues with an air conditioner, but it's fixed now and the more pressing matters lie elsewhere, so I'll summarize, eliminating that hassle in favor of relating other extraneous nonsense.
We slept in, picked up lunch for the wife and myself, then got the evidently now inevitable daily call that the
Middle Sister
wanted to come by, which means that my afternoon basically goes down the shitter as we have to entertain a guest who has very little to say but would just like to get out of her own home and spread the crazy around a bit.
Apparently saying hollow pleasantry shit like "
give us a call if you need anything
" is actually taken seriously by a portion of the populace. Duly noted; will strike that phrase from my vocabulary.
So the
Middle Sister
shows up around, oh, let's say 2:00
PM
or so, as I wasn't watching the clock to see exactly how
fucked
my life was at this point in time. She sits in the sitting area off the kitchen and the wife makes with the chit chat for a bit, I flip channels on the telly and wonder how long our day will be held hostage
this time
. I step into the laundry room to start a load of towels to give me something to do, as the idea of getting anything watched for review is laughable with conversation in the other room. The doorbell rings, it's the
Middle Sister
's
Idiot Husband
and their kid, which brings me to the verge of an anger stroke (that can happen, right?), as we now have an extra
family
underfoot that have no reason to be here save for the Sister's unchecked lunacy that no one seems to be able to nail down a solution for.
I gave these people roughly another hour or so, until the husband came and sat down next to me on the couch as I desperately flipped channels to amuse myself and starts asking questions like "Do you follow politics?" For fuck's sake, beyond the fact that politics and religion are
the worst
subjects to discuss with anyone, he should know after five+ years of being around me that we don't share the same political leanings, so why begin that song and dance? I finally exhausted both the channels available to me as well as my patience, told the wife that I was done with all of this, indicating the house and our 'guests', grabbed my keys and walked out.
Dick move, I'll freely admit, but it was this or me end up shouting at everyone in the place to
GTFO
, in the parlance of the interwebs, which I figured would go over worse than my simply removing myself from the equation.
I drove around a bit, grabbed a coffee at
Starbucks
, eventually stepped into the local books, music and video outlet, where I found a few cheap books for the pile, then headed home after trading a couple texts with the wife who assured me that '
this house is clean
'.
We debriefed back at the house, I assured her that I wasn't mad at her, but rather frustrated with what is becoming an untenable situation, she assured me that she wasn't mad that I'd left with very little in the way of explanation. I admitted that I had told the
Idiot Brother In Law
that we weren't in the business of letting his wife spend the night, an idea that's come up on her end recently; I shut that shit down with a simple "Yeah, that's not happening." because I don't want to have to kill myself before my health starts to fail and I
Kervorkian
my way out of this mortal coil.
The wife and I ordered in some dinner, watched some bullshit off the
To-Watch Pile
and generally tried to relax after the hassle of the afternoon.
I'm out.
Be seeing you. (Unless you start showing up at our doorstep, then I may hide in the bedroom)
Tag, you're it, Baggy Eyes!
Frustration
,
Family Drama
,
Irritation
,
Movies
,
To-Watch Pile