Teeth, Shutters And Loving Lamp
After managing yet another decent night's sleep I got up this morning and decided to treat myself to a pot of coffee, as I've been trying to consume sparingly in efforts to not 'have' to have something just to get through the day. I'm weird about little things like that, if I'm drinking a ton of soda I'll find myself limiting the intake to one a day, just to prove that I can. On the other hand, I'm over weight, so I'm not as much of a control freak as I
could
be, but rather only in pointless ways that deny me the small creature comforts of life.
I had the dentist today for a cleaning, the prognosis of which came back positive, so I feel like all the flossing and whatnot is paying off not only in not offending the world with my dragon breath, I now don't have some asshole trying to take a drill to my teeth every 6 months or so.
After the dentist I stepped into
Best Buy
, as they had a couple things on sale that I figured I could finally use up the
Reward Zone
certificate that I had been sitting on for awhile now. I picked up a sandwich for my late lunch and then headed home.
The wife had errands and the like in the late afternoon, so I got some stuff done on the web, then she and I settled in for the evening with
Shutter Island
, which had arrived from
Netfux
yesterday afternoon. I had very little idea about the plot of the film, knowing only that it was about marshals investigating the disappearance of a female patient from a hospital for the criminally insane, which as it turned out was a good thing, as the film was allowed to unfold without me having particular expectations or looking for certain things that might've spoiled the final act. I really enjoyed the way the film was shot and the visuals that
Scorcese
puts together are rather striking , particularly in a few dream sequences. Good little thriller, well worth a peep if you've not seen it yet. I'll be curious to see how it plays on the 2nd viewing, if it's as engaging when you already know where it ends up.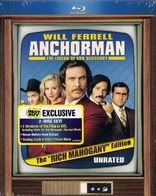 We wrapped the evening up by taking a look at the newly purchased
Anchorman: The Legend Of Ron Burgundy

Blu-ray
, which is currently a
Best Buy
exclusive and on sale, so I figured what the hell. I have to admit, I wasn't 100% sold on this flick the first time I saw it, but due to the pervasive influence of numerous quotes from the film and certain clips making the rounds on the web, I wanted to give it another go in its entirety. I have to say that I definitely liked it more on the second go 'round, and there's a ton of bonus stuff included on the 2 disc set, so there's a helluva lot more to dig into as I explore the weird ass world these guys created.
I may try to call it another early night, as I'm enjoying reading for an hour or so in bed before crashing each night.
Be seeing you.
Tag, you're it, Baggy Eyes!
Dentist
,
Shopping
,
Movies
,
Netflix
,
Blu-ray
,
Shutter Island
,
Martin Scorcese
,
Anchorman The Legend Of Ron Burgundy
,
Best Buy Exclusive