Revolutionary Blood Fringe
I felt like shit today emotionally and I did very little. None of you care, so let's not pretend.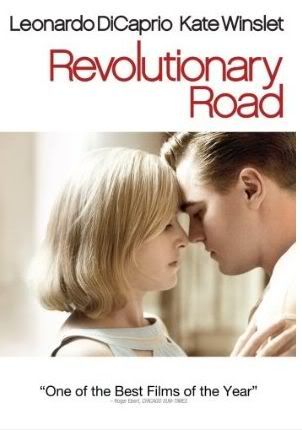 I picked up a late lunch and re-watched
Revolutionary Road
from the old To-Watch Pile, something I'd picked up a few months back. The film remains as depressing and real as I remembered; truly great performances by all involved, especially
Michael Shannon
as the crazy Realtor lady's son. Which is to say that he play the Realtor lady's son, who happens to be cray and puts our leads on edge; Realtor lady isn't unbalanced and I don't know where you'd get that idea, unless you've typecast
Kathy Bates
in your mind as that nutty bitch from Misery. Great film, suffice to say, well worth your time if you haven't already seen it.
Since I was feeling kinda half depressed anyway, I decided to continue the downer movie trend with another re-watch: the stunning
There Will Be Blood
off the stack of Blu-rays beside the bed that's been there forever. This is a perfect film to me, it hits on every level, emotionally, visually, hell, even the music is killer.
Daniel Day Lewis
blows me away with his performance, the guy is so wrapped up in his role that it kinda fucks with me when I see him in normal photos, such a great role all the way around.
The wife was out for the evening at a fundraiser, so I wrapped my evening with the latest
Fringe
off the DVR in the bedroom. The wife got home late, we caught up a bit while watching random shit on cable, then I headed to the bedroom to dick around with this nonsense.
I'm out kids.
Be seeing you.
Tag, you're it, Baggy Eyes!
Depression
,
Movies
,
To-Watch Pile
,
Revolutionary Road
,
Michael Shannon
,
Kathy Bates
,
There Will Be Blood
,
Blu-ray
,
Daniel Day Lewis
,
Television
,
Fringe
,
DVR