Halloween: The Night Of Creeps, Wolfmen And Walking Dead
I slept like a rock last night, I think the weird sleep patterns finally caught up with me. I got up at a reasonable hour, but soon found myself back in bed, where the wife and I cuddled with the Yorkie for a bit, then fell back asleep for quite awhile. Once I finally roused myself, I wolfed down the leftover breakfast stuff that the wife had made whilst I slept, then started figuring out what I wanted to ride down the clock on October with for Halloween itself.
I ended up going with a few old favorites and a few newer items that I wanted to re-visit. First up was
Night Of The Creeps
, which has been a fav since I started catching it on broadcast television way back in my youth. It's one of the very few films that I can forgive for naming pretty much every character after a famous horror director (a move that screams 'amateur hour' normally) and features
Tom Atkins
at his most bad-ass, growling his way through hilarious/corny lines like "The good news is your dates are here, the bad news is they're dead" right before he starts blasting fratboys in the skull. Such a fun film, something I hadn't seen in at least a year or so, I may yet have to replace the bootlegged DVD I own for a legit copy of it on Blu-ray.
Around this time one of the wife's Uncles turned up, evidently avoiding Grandmother (who he's currently staying with and being driven mad by during said visit) so he decided to get out and come over to our house, wandering up to the door carrying an open beer; always a good sign of things to come.
I said hello and after he basically said that he 'knows we enjoy our Sundays alone' but still came inside, I figured he was aware but didn't particularly care, so I let he and the wife shoot the shit while I popped in the recently purchased
Wolfman
Blu-ray to give it another look. Again, I find myself more interested in the style of the Gothic potboiler of it all than in the actual film itself, enjoying the visuals and the misty moor-filled vibe of things than I probably should. There's things to take issue with, but I have to admit, I even found the CGI forgivable, which generally isn't the case.
The Uncle split somewhere around the one hour mark of the film, which I finished up while the wife got some dinner started, then I spent a few moments making certain that the TiVo was set up for tonight's various recordings. The wife made some homemade chili (which she'd evidently made before, but I honestly couldn't recall how it turned out), so I was a little skeptical as I watched some of these ingredients going into the pot, including whole tomatoes and beans, neither of which I'd normally seek out for this dish. My misgivings were for naught, as a quick taste test proved that the dish was indeed delicious and we settled in with bowls and chips for a re-watch of a true classic.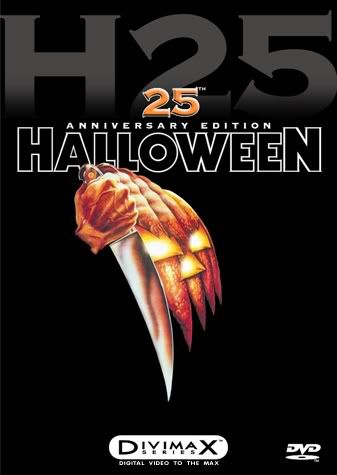 Halloween
is pretty much the obvious choice for a film to watch on Halloween night, and we by God gave it another go. I figured the timing would be perfect as it'd be on while we had what I anticipated would be the big rush of any trick or treaters that we might get. This proved to be the case, and we were up and down for the duration of the film, joined for a time (again, against my will) by the Middle Sister's Husband and the Nephew, who are evidently developing the alarming habit of just turning up here each Halloween and staying for a good hour or more, which might be pushing it a bit much, as I can only make so much chit chat with this dude. Plus their kid was vaccinated with a phonograph needle or something and talks constantly. I honestly don't think he ever stops his ongoing monologue about anything that pops into his head, which I would have gotten the taste slapped out of my mouth for as a child, so I find this situation puzzling. I mean quite seriously, I was raised to not speak when my elders were talking, so to have a kid around that never stops is a bit of a head scratcher for me. I'd also file this under 'reasons we may not need children', because I'd put a shotgun in my mouth if this were the normal day to day that I had to deal with.
The next flick I popped in was
Trick 'R Treat
, ironic as the actual trick or treaters at our door had started to dwindle to nothing around this time. The film is such a fun watch, I'm happy to have another staple to add to the rotation each year. Plus, it's hard not to automatically love little Sam, the little burlap-sack dressed mascot from the posters and all the promotional material.
Things finally getting quiet around the house, we turned off the light out front, as we'd not had any kids in at least an hour by the time the film was over. The Yorkie refused to wind down, as Halloween and the constant stream of strangers to bark at must be like her Christmas each year.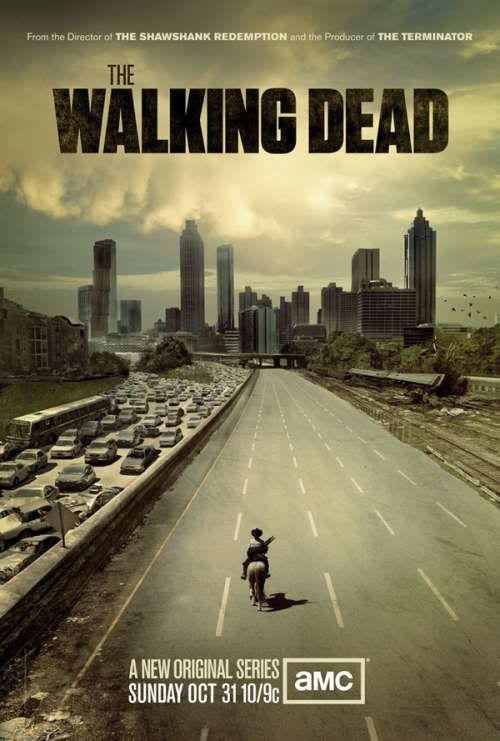 We watched the new
Bored To Death
just to allow
The Walking Dead
to start its recording off AMC, then stayed up past the wife's bedtime to see how well the comic series was adapted. The show captures the feeling of the comics really well, and though it's been some time since I originally read the trades, I feel like it's hitting the same points rather well. The zombies look good, the gore is surprisingly plentiful for a non-cable channel and the apocalyptic look of things is well-realized. I'm very excited to see how this plays out, I hope enough people are interested in this beyond the Halloween connection to keep it going as a weekly series, as it does become more about the human interactions and their coping abilities in this violent world once you establish the conditions under which they now live.
It's late, I'm out kids.
Be seeing you.
Tag, you're it, Baggy Eyes!
Movies
,
Halloween
,
Night Of The Creeps
,
Tom Atkins
,
Family
,
Frustration
,
The Wolfman
,
Blu-ray
,
Trick R Treat
,
Television
,
Bored To Death
,
The Walking Dead