Robbing My Infernal Dread
I received a card in the mail today saying that I am being summoned for jury duty in the middle of
January
, which is a lot like having 2010 piss in my face one last time before the new year. What a tremendous way to start off 2011. Oh and if I can bitch a little further with this subject: I swear to
God
there's a twist in the system skewing towards a higher tax bracket, because I got called for jury duty
ONCE
between the age of 18-30, now it's like every 8 months since I married the wife. That can't be a coincidence, no lottery ball is this lucky.
The wife and I met her friend
JH
for some lunch, caught up on her holidays, then headed back home to relax. We'd pretty much decided to stay in for the night, so once we got home we settled in to relax and chill out.
I started
Infernal Affairs
, which had been on the
TiVo
since this past
January
. I had resigned myself to having two films left over as we go into 2011, but wanted to get at least one more thing off the box before we ring in the
New Year
. I'd seen the film before, but since I had managed to pick up the two sequels cheap without the first film, I figured I should give it another look before checking out the stuff that came afterward. The movie holds up really well, I can definitely understand how it became the sensation that it did, even going on to inspire
The Departed
several years later. Great stuff.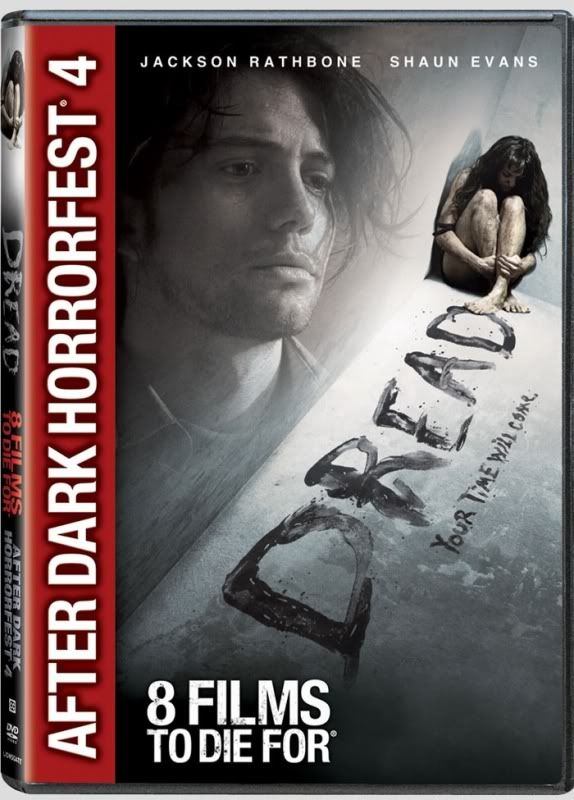 We had received the
Clive Barker
-inspired
Dread
in the mail from
Netfux
, so we gave that a spin next. Well,
I did
, the wife was around but she mostly spent her time reading a book about crochet, her current interest/hobby. The movie was very middle of the road, more of a character study than horror exactly, with a central character manipulating those around him to see what their fears are. I don't recall much of the short story on which it was based, so that was also a problem, it was hard to tell if it did the story justice or just went off on its own tangents. Don't get me wrong, there's a few gross bits, but overall it's never all that horrifying. Rental, perhaps?
We ordered in some deli food and while we waited on that to be delivered I gave the phone a shake and it randomly suggested the
Dragon Dynasty
release of
Jackie Chan
in
Robin B. Hood
, in which he plays a cat burglar you finds himself forced to steal an infant, then tries to protect the infant from much more intimidating criminals. There was a truly impressive amount of 'baby in peril' sequences and some stunts that still made me wince; hell, I hadda rewind at least a couple scenes to point out stuff to the wife, who was also drifting in and out of this one as well. Great little film, I really enjoyed it. Also my last film watched of 2010, as we moved on to some episodes of
Lost
afterward.
I popped in the
Lost
disc just because I figured that if the wife needed to see the
Time Square
ball drop shenanigans we could pause that easier than a full on movie. I actually ended up staying up to watch a second disc after the wife and I had rung in the
New Year
, because I've gotten off my re-watch schedule lately. Ideally I would just pop in a disc and watch a single episode each day, slow and steady to get through the series, but I naturally end up marathoning one or two discs at a time, then watching nothing of the series for the next week. It's kinda silly.
A brief message from the past:
I started this post on the laptop, which naturally wanted to do all manner of updates and shit like that, which pretty much zapped the battery down to nothing while it did so. Now I've gotta save this and post it in the
New Year
, because I'm not going to have time to finish it before this thing craps out on me.
And so I did
.
Be seeing you.
Tag, you're it, Baggy Eyes!
New Years Eve
,
Lunch
,
Friends
,
Movies
,
Infernal Affairs
,
TiVo
,
Dread
,
Clive Barker
,
Netflix
,
Dragon Dynasty
,
Robin B Hood
,
Jackie Chan
,
Television
,
Lost
,
Computer Frustration