Sorority Fascination
I was able to manage about 7 hours of sleep last night, then rose with the wife and Yorkie around 8:00 this morning. The wife started getting ready for her day, so I busied myself with making the bed and getting the house opened up for the day. I settled in the
Office
with some tea and spent some time on the web dicking around with the nerd-lists, which I am finally making a slight amount of headway on.
The wife split to run her errands and I had some more tea, eventually getting off the
PC
to run a few errands of my own shortly before noon. I gathered and loaded the recycling, then went to dump that off and hit the bank before heading back home to make myself a bite to eat.
I ate a sandwich while watching a few episodes of
The Venture Brothers
that'd accumulated from this past weekend, then caught up with the wife when she got home from her outing. She headed into the
Office
to work on some non-profit stuff while I popped in something off the
To-Watch Pile
.
Fascination
is a 1979 film from
Jean Rollin
, a man known for his dreamy
Euro-horror
/skin flicks, most of which are fairly light on plot and heavy on atmosphere and nudity. I've now seen a couple films by the man and I have to say that I do enjoy his movies for what they are, as I am something of a 'style over substance' kinda guy, and these films are nothing if not stylish. I would say that the movie is worth a watch if you know what you're getting into, which is little plot and some interesting languid visuals, as well as
Brigitte Lahaie
getting naked like clockwork about every 12 minutes or so, which I assure you isn't a bad way to kill 80 minutes.
The wife was still wrapped up in her stuff ont eh computer, so I did some time on the stationary bike, passing the time by letting the
Goddamned PS3
update itself
yet again
, as it seems to be in need of something every other time it's turned on. I cannot imagine how annoying this would be if I were sitting down to try and play a game or something, rather than just playing something via
Netfux Instant Watch
.
I spent some time on the
Library
reading to cool off afterward, then the wife and I settled into the den for the evening and I made myself a martini before we started a movie.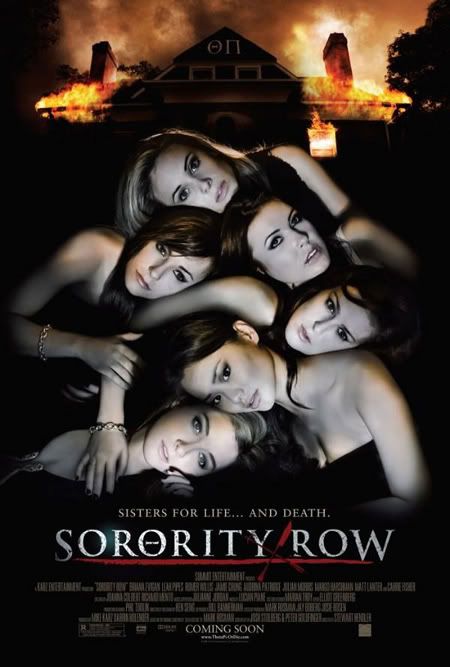 We've had
Sorority Row
sitting on the
TiVo
for some time now, which I figured that the wife could get some laughs out of considering her own time in a sorority in college. The movie is loaded with ridiculous 'movie parties', where gorgeous people have amazingly lavish parties with no indication as to who's bankrolling all these assholes and their drunken expensive hijinx. The movie is okay, though I was slightly disappointed that the kinda cute chick I was surprised to see was in the film was the girl who is killed and whose death is covered up, as I was hoping for a bit more screen time for her. Oh well.
We ordered in some pizza for our dinner, then I eventually tracked down something else off the
To-Watch Pile
to go along with the 'sorority' theme of the evening, which turned out to be the wordily titled
Sorority Babes In The Slimeball Bowl-O-Rama
, which is a flick I've always
heard of
(mostly due to the puzzling fucking name), as well as the schlocky low budget nature of it all.
The movie is very much of its time (the late '80s), with the requisite corny characters, nudity and some amusingly bad special effects as an
Imp
is released from a bowling trophy (?) and wreaks havoc on the college kids responsible. It was picked up cheap and I feel like I got my $5 worth of entertainment from it.
We called it a night shortly after, so that I could get the blog caught up and then get some notes typed out for this post to go up sometime on
Thursday
or shortly thereafter, depending on my commitment to the cause.
Be seeing you.