Movie Blob Monday
I woke rather early today, as we had the
Geek Squad
fellas lined out to be here early to install the new gigantic television that we'd bought earlier in the week. Once the alarm drove me from the bed, I got my tea started on the stove, then opened the house up for business and settled into the
Office
to wait on
Best Buy
guys to show up.
After I had spent about a half hour or so working on catching up the blog the doorbell rang, announcing the arrival of the
Best Buy
guys. I let them in and showed them what they were up against, then left them to begin the whole installation process.
They were in full swing with this when the
Carpet Guys
arrived, which kinda surprised me, since we'd nailed down
Tuesday
as go-time for carpet, or that was my understanding. I managed to sequester the
Yorkie
over on our side of the house, then let those guys get started on the whole carpet thing while I settled back in to work further on the blog, listening to a couple podcasts to pass the time.
The
Best Buy
guys split after showing me the basics of the new television, including the
Smart TV
options of surfing the web and that sort of thing, which I don't know if I'll ever bother to use, but man isn't it fancy? It's like living in
Star Trek
, I tellya!
The
Carpet Guys
finished up shortly after noon, and I put in an order for lunch with the wife, who was out running errands and doing the grocery shopping.
The wife arrived shortly after I'd sat down and started playing around with the new television a bit, so I put that process on hold to help her unload and put away groceries.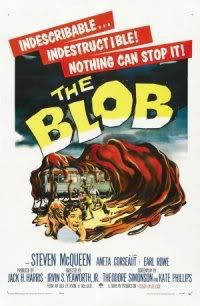 I took a bit of time to show her around the
TV
a bit, then I settled into the den to eat my sushi that the wife had brought me for lunch and watch the original 1958 version of
The Blob
off the
TiVo
for my whole
Movie Shame Monday
project, in which I make an effort to fill in holes in my film knowledge.
I ended up getting a call from a friend while watching the movie, so I talked to
Vox
for close to an hour before getting back to the movie. I finally finished
The Blob
, which was enjoyable but honestly somewhat slow for my tastes, though I can definitely see how it would've freaked people out back in the day, as the special effects hold up pretty well.
I feel that I should also give an aside here that it's somewhat ironic that we have this fancy new
TV
installed and the first thing I watch on it is a film from the late '50s that probably didn't look all that great to begin with, much less held up to hi def scrutiny.
My next selection for
Halloween
in the late afternoon was something that I figured would showcase the new telly a bit better, as it's a recent film and was released on
Blu-ray
. I popped in
Trick R Treat
for a re-watch and it
definitely
showed off the new television a great deal more than the 1958 film that proceeded it.
The wife had been chilling in the bedroom for a bit, so she got started on dinner as we got closer to 6:00 and I moved our little cauldron of candy into position by the door in case we had any early birds turn up trick or treating. I also popped in a little something from
Something Weird
entitled
Monsters Crash The Pajama Party
, since it felt like something I could kind of drift in and out of should I find myself interrupted by answering the door.
We eat and poke around
Facebook
on our phones to pass the time with the movie, then finally got our first trick or treaters around 7:30, as it neared full dark outside. I dunno what the standard operating procedure is for other areas, but around here we seem to wait for full dark before the kids go out, regardless of it being a school night or whatever.
Our stream of kids was fairly steady from this point, getting heavier between 8:00 and 9:00, which included a visit from the
Hairdressers
, their daughters and grandchild, as well as the
Middle Sister
and her brood. Unfortunately, the
MS
' visit also included friends of theirs, one of whom is a 2nd cousin of mine, proving that this town is still too fucking small. It also doesn't help that the
MS
and her family seem to view
Halloween
as the only time that we can visit or catch up, so they wanna hang out in the doorway and fuck up the flow of our trick or treaters, who by this time were turning up hot and heavy, in large groups that threatened to drive the
Yorkie
apeshit. Oh and it doesn't help that the relative of mine that she inexplicably wants to hang around with is some sort of ex-con whose own sister refuses to have anything to do with him, yet I'm put in the position of making nice?
Whiskey Tango Foxtrot
?
Our traffic slowed to a trickle as we got past 9:00 and by this time I was trying to re-watch
House Of The Devil
. We get a call from
JH
, whose apartment had been fumigated while she was at work, but the fumes hadn't dissipated by mid-evening, leaving her feeling less than healthy while trying to go to sleep in her own home.
The wife offered to let her sleep in the spare bedroom, even though it's not quite finished out, so she hung up with the plan that she'd head over after grabbing a few overnight items and something to wear to work on
Tuesday
. She arrived around 9:30 and chilled with us for about 30 minutes or so before crashing out for the night.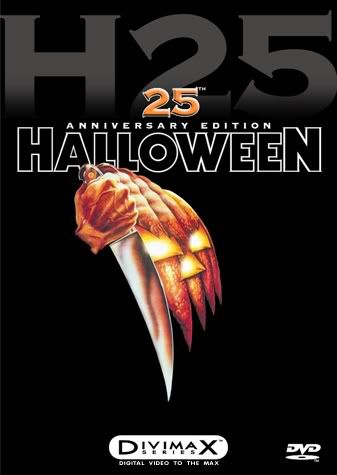 The wife and I finished
House Of The Devil
in the den, then picked up the house a bit before settling into the bedroom to watch the traditional viewing of
Halloween
to wrap up the night, as is our custom. I forego the blogging at this point in favor of catching some sleep, as I had the threat of an electrician on
Tuesday
morning. This would be one of the final steps of this
Goddamned
renovation, which I have to say that I'm happy to finally have an end to all of this nonsense in sight.
Be seeing you.