Blue Hell
The
Maid
was on the docket today, so I had set the alarm for 9:00
AM
to make sure that I had some time to be up and aware before she was ringing the bell. Imagine my frustration when the stupid smoke alarm chirps and wakes us up at 6:30 in the
Christing
morning. I got up and stabbed the thing into silence, then struggled to settle the
Yorkie
and get back to sleep myself. The wife gave up and got up to start her day, so I would hear her bumping around the house a bit while I tried to sleep though it eventually got quiet when she split to run the
Yorkie
to the
Groomer
.
I woke a couple hours later with the alarm, then got up and moving, put some water on to boil for tea and opened the house up for business. I spent time on the
PC
in the
Office
polishing up a blog post, then let the
Maid
in when she turned up at 11:00. She got started on her routine and I holed up in the
Office
to piddle around with the blog a bit further, eventually chilling with an episode of
The X-Files
courtesy of
Netfux Instant Watch
and a sandwich for my lunch.
The wife returned with groceries and the dog, fresh from the
Groomer
, so I helped her unload and put stuff away, then we released the hound so that she could go and keep a watchful eye on the
Maid
.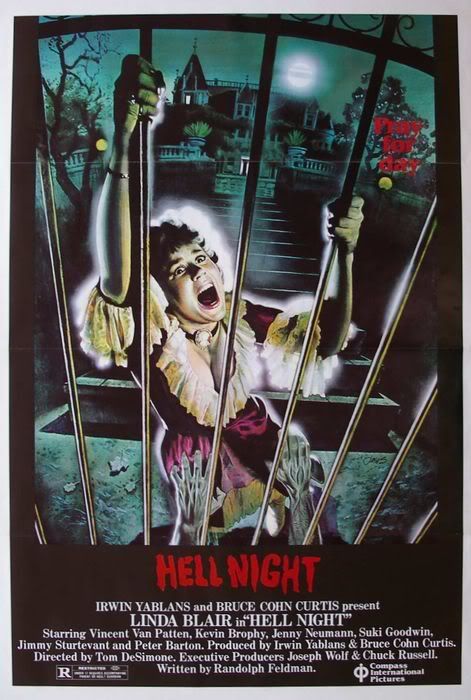 I had started watching
Hell Night
on
Netfux
in the Office, but since the wife was home and had some phone calls to make I decided to step out and run a
Swap A DVD
trade to the
Post Office
.
The
Maid
was gone when I returned, so I was able to move into the den to finish out my movie, which was quite an ordeal, as the
Netfux
option on the
TiVo
continues to stop and stall frequently, around every 15 minutes or slightly longer, which makes for an annoying afternoon. I did finally flip over to the
Blu-ray
player to see if it fared any better, and it worked great, until it crapped out about 6 minutes before the end of the movie, which really super pissed me off. I may have to look into some new solution with the cable people, as I'm beginning to suspect that this isn't anything to do with the devices and may be about the signal strength.
All that annoyance stated, the movie turned out to be something I'd seen before, which surprised me. Sporting a cute
Linda Blair
in her early 20's, dolled up for a party to be
Little Red Riding Hood
and featuring some nice cleavage, you'd have thought the film would make more of an impression on me. The sad thing is that the movie wasn't all that good, with the director having mistaken 'suspense' for a series of sequences of actors creeping slowly through darkened halls or tunnels, peering to and fro with no real point until they find a dead body that we (the audience) already knew would be there. Yawn. It's a bit tedious and if the dogshit pacing were tightened up maybe the film would be a bit more fun, but as it stands it's about 15 minutes longer than it needs to be.
The wife had a party to be at in the evening, so she split to go and do that as I was shaking up a martini, so I selected
Blue Velvet
off the
To-Watch Pile
for a re-watch since I haven't seen it in quite some time and I know that there's now a
Blu-ray
release, so why not watch the
DVD
just in time for to upgrade to another format, right? The film holds up well, though there is a strange schoolboy quality to
Kyle Maclachlan
's detective work that would honestly make me wonder if he were a little slow, were I to deal with him in real life.
Dennis Hopper
's unhinged
Frank Booth
character is an absolute joy, chewing scenery from start to finish, well worth the price of admission.
The wife returned as the film was wrapping up, so she and I wound down the night with some television, including an episode of
Ghost Hunters
and then the new
American Horror Story
and
The Soup
, since it's been moved to the middle of the week for no good reason.
The wife crashed out and I eventually moved into the
Office
after channel-surfing for a bit to work on this post and then call it a night myself.
Be seeing you.