The Evil Of The New Year Gaga
The wife and I rose with the alarm this morning to go and make a final pass through the local library thrift shop, as they still had a 75% off sale running on their current inventory. This unfortunately for me meant that they still had most of the stuff I left behind on my last visit and not much more, though the wife found a few items since she hadn't been there in quite some time. We encountered the usual grouchy elderly woman checking us out, who whinged about the $20 bill I paid her with, because it ate up some of her change. I really have never seen a more miserable person, it's almost comical if it wasn't so irritating.
The wife and I hit the
Starbuck's
drive-thru for some coffee, which was filled with several of those idiots who refuse to get more than five feet from the vehicle in front of them, regardless how long the line is and whether or not we have people actually sitting in the street because they can't get into the parking lot. I truly hate these people. If they would pull their head out of their ass and roll forward a few feet, the line could compress dramatically, but instead they want to sit there as if they're on the highway and need a few car lengths between them and the person in front of them. Bah.
We picked up breakfast burritos on the way back to the house, then ate at the kitchen counter while looking through the newspaper and halfway watching part of a
Marx Brothers
marathon that had started on
TCM
. The wife took the time to set the table for the 'progressive dinner' that we were going to be a part of in the evening, then she and I moved into the den to watch something appropriate off the old
TiVo
.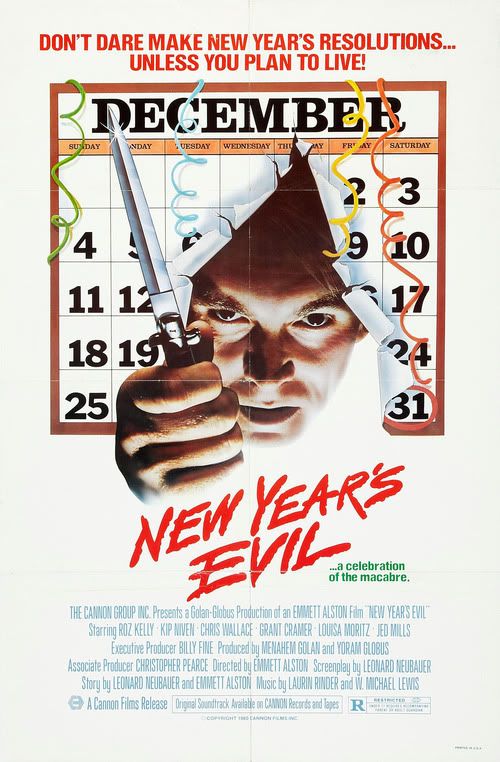 I had never seen
New Year's Evil
before, so I jumped on it when it was shown on
TCM
last weekend. A horror film from 1980, it's about a nutjob calling himself
Evil
who calls in to a TV hostess celebrating
New Year's Eve
in grand
New Wave
style, telling her that he's going to kill a person on the cusp of the
New Year
in each timezone, culminating in a murder in
L.A.
It's a fairly silly film, and while I guessed the twist right away, it was still fun for the '80s setting and all the inventive kills, including a woman smothered in a giant bag of weed. Fun stuff.
I busied myself in the afternoon with the blog and getting some laundry done, as I had a certain dress shirt I had in mind for the evening. The wife got her dessert item prepped, so all we'd have to do was heat it when we got home tonight, then we both set about getting cleaned up and dressed for the evening.
Since the weather has been mild enough to accommodate me wearing a suit without sweating through it, I decided to dress things up, so the wife matched me on that, making us fairly overdressed for what was to be a pretty casual affair. We joked that we were just going to our own party, regardless of what the night held for us.
The progressive dinner was to begin at
Brian
's place, where we were to meet at 7:00 for appetizers and about an hour of socializing, then move on to the next stage of the evening. We arrived just ahead of
Anastasia Beaverhouszen
and
Kno1
, who brought their friend
GH
with them for the evening. We headed up to
Brian
's place, snacked on some pigs in a blanket and some chips & dip, then chilled and visited for awhile in his living room.
As the hour got close to 8:00
Kno1
indicated the time, so their party excused themselves to run ahead of us and get the final touches put on the entree for the evening. We spoke with
Brian
for a few, then left him to close up his place, heading to the
Beaverhouszen
's place where
Brian
joined us shortly after, and we tucked into a nice fresh salad and a chicken pot pie. More conversation and merriment followed, then the wife and I said our goodbyes and slipped away to get things ready at our place for the final stop of the evening.
The hour still being somewhat early, we didn't really encounter as many obvious drunks as you would expect, so we got home pretty quickly, I texted
JH
, who was to join us late, then the wife popped her little cheesecake confection in the oven to bake for a quick 20 minutes. Our guests arrived and we settled in for cocktails and then a nice little dessert at the formal dining table in the front of the house. We eventually spread out a bit throughout the house, as
Brian
soon had to split to be at a family engagement and the ladies spent time in the wife's craft room spit-balling ideas about the new configuration.
The gentlemen and I flipped channels until I settled on a couple new episodes of
Cathouse
on
HBO
, because the lives of whores are just fascinating.
Plus, who are these fucking weird guys who allow themselves to be filmed for this show and outed as whore-mongers on national television? So crazy.
We all eventually settled into the den and watched an encore presentation of a
Lady Gaga
concert performance on
HBO
, which I really enjoyed the first time we saw it. I have to say, all weirdness and costuming aside,
Lady Gaga
has a great ass, so what more could I want from her? Great ass, weird theatrics and fairly catchy music, what's not to love?
The new year came and went, we flipped over to the
Dick Clark
nonsense to see that the ball had dropped an hour before, so all gave each other a kiss and toasted, then finished out the concert, at which point the guests bailed, as it was around one in the
AM
at this time.
The wife and I decompressed a bit and chilled, then called it a night shortly after.
Be seeing you.