Girl Birthday Guerilla
The wife was up and running early this morning, so I only heard her briefly before my alarm finally roused me at 9:30. Five hours of sleep proved to be less than what was needed, so after a slight stirring, I found myself dozing again for the better part of an hour. I finally got up and opened the house up, then dressed and headed out for
Odessa
, as yesterday's shopping surprises at the books, music and video outlet had me wondering if anything interesting had turned up at their sister store.
I booked over to
Odessa
, arriving just shy of the lunch traffic, then spent around an hour prowling through their shelves for any bargains that might catch the eye. I wasn't able to turn up anything out of print this time around, but a small selection of
Blu-ray
stuff ended up making the trip worthwhile.
The wife had called as I was getting into
Odessa
, so I made plans to call her about whether or not she was interested in a bit of late lunch when I headed back home. I called and took her order, then grabbed some chicken at a place near the house before heading home. The wife and I caught up a bit, then I ate in the den while she and the
Yorkie
watched their normal afternoon trash
TV
. I watched this week's episode of
Comic Book Men
, a show that still holds a morbid interest for me from the hobby level, in that you don't see a lot of stuff specifically about the hobby on network
TV
, but it also continues to annoy with the manner in which these people conduct themselves at the business. The snark factor makes me want to slap someone at least once per show and I honestly can't imagine dealing with these guys in person, because I feel like I'd end up on the news. Oh well, if you told me as a young dork that there'd be a weekly show devoted to the nerds who enjoy comics, I'd have thought you were crazy.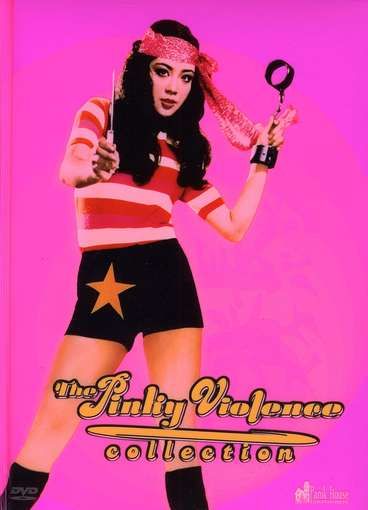 The evening would bring the youngest
Nephew
's birthday party with the family, so I figured I should try to squeeze in a quick movie in the afternoon.
Girl Boss Guerilla
was a film out of the
Pinky Violence
collection that I had a podcast on tap to review, so I popped that in for a quick watch. I've only had minor experience with the
Pinky Violence
films, so this seemed to fit into that genre pretty well, in that it features tough chicks who have no issue with scrapping in various states of undress and who are every bit as rough and tumble as the men in the film. In this one a group of girls relocate from
Tokyo
to
Kyoto
and start to encroach on the turf of the existing gangs.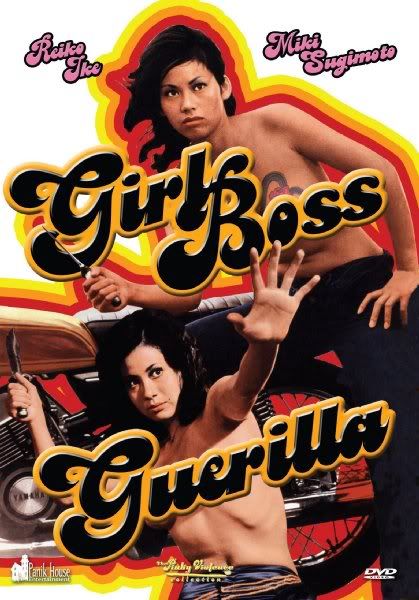 This eventually leads to a subplot involving a boxer in training and the gang leader falling in love, which is complicated by the
Yakuza
and other elements. It's a good little flick, sleazy and fast paced, so you never have any time to get bored with anything before we're off to another scam or brawl. Well worth a peep if it sounds like your cup of tea.
There was still a bit of time to kill before the evening commitments, so I popped in the first disc in
The Addams Family
set, as I've gotten this wild hair to watch the series lately, and just figured I'd tackle it one episode per day. That made for a fun, nostalgic 30 minutes or so, during which time the wife drifted in and was pleasantly surprised to see the show. We eventually headed out to dinner with the
Mother In Law
and the
Beau
before the party, as we didn't know exactly what to expect as far as refreshments would go.
Dinner was decent, we visited a bit and compared notes on the dinner for tomorrow night, which was something that the wife sprung on me at the last minute but gave me the option of passing on, as she has something she has to make an appearance at afterward anyway. I'm taking the out on this one, as the 'big' party was meant to be this evening, with tomorrow being the actual day of birth and being more of a family thing. It's also at a
Japanese
steakhouse where they cook in front of you and could very well drag out for
who knows how long
. Sorry, but I'll pass, I'm doing my time this evening, thank you very much.
The party was at a nearby venue, actually the building of one of the wife's non-profits, who are willing to rent it out to help cover their own overhead. The only downside was that the
Middle Sister
had scheduled the party at 6:30 on a school night, when most folks are likely sitting down to dinner, or out at church, so let's just say that things could've been better attended. The
MS
is still palling around with the random cousin (or 2nd or 3rd cousin,
I honestly don't recall
) of mine and his family, so I ended up doing that weird "hey, we don't really know each other and have absolutely nothing in common" dance, which wasn't as unpleasant as it could be, as he seems equally disinterested in catching up, so that's a blessing. We kinda visited for a bit, were surprised to see the
Druncle
turn up to say hello and drop off a card for the birthday boy, then the
MIL
and her
Beau
split and we watched the kids play a bit, then some folks who were using the room tomorrow morning turned up to start setting up, which naturally puts a cramp in the festivities. The
MS
seemed flustered by their presence, as she was under the impression that she had the room for the entire evening, so we cleaned up and cleared out, though as it turned out the wife knew the next group, so she kinda smoothed things over a bit and tried to find out what kinda lack of communication had led to this situation. It seemed that honestly neither party was at fault, but rather the owners of the building, so the wife gave them a call on the way home, just to make them aware of the situation, and offered advice as to how they should deal with it, as an ex-president of the organization.
Back at home the wife and I watched tonight's episode of
The Soup
before calling it a night.
I put the wife to bed, took some time to list a few items for sale on
Amazon
, then got started on this post.
Be seeing you.