Stupid Kentucky Fried Crazy Talking Kevin
The wife,
Yorkie
and I all slept in today, which was a nice change of pace. The pup seemed to have a little more life in her after yesterday's ordeal, so that's got to be a good sign, and she's still eating normally, except that she's avoiding her hard kibble, which is to be expected. Actually, I wouldn't be surprised if that is now eliminated from her diet altogether, since we don't even know how many teeth she has left to chew with at this point.
We kinda bummed around the house for a bit, then the wife stepped out to run to the grocery store and a couple other little stops that she had in mind, so I got the house opened up for the day and retrieved the mail and newspaper, then weighed my options for the afternoon. We were to have
Buckaroo Banzai
and
Pookie
over for dinner, with them arriving around 3:00 or 4:00 in the afternoon, so I grabbed a shower and dressed for the day. Since I had missed the postman I decided to get out and run the
Netfux
movie by the post office and picked up a late lunch for myself, as I knew that we were going to be eating a fairly light meal, and not for about 4 hours or so. The burger joint I chose naturally had an
assholishly
slow moving line at their drive-thru, which meant that by the time I actually got any food in my fucking face it was about 20 minutes away from our guests arriving. Oh well.
The wife arrived and we put away groceries, then our guests turned up a short while later and we visited around the kitchen counter for awhile as the wife served up some of the fruit that we picked up as part of our little basket deal last night. We eventually relocated to the den and caught up a bit more while flipping channels on the television, then the wife eventually got started on dinner, which was to be the cedar planked salmon, rice and a little salad. I popped in the
Arrow DVD
of
Kentucky Fried Movie
, as I figured it would pass the time until we got a little more serious and watched something of more substance in the evening.
Kentucky Fried Movie
is one of those fun comedy films that seems to hover out there in the ether until you're actually watching it, then the gags come back to you as you watch, as both
Bucky
and I kept clicking on certain bits just before a punchline was said. The flick was a lot of fun, tho I think the longest skit (
A Fistful Of Yen
) started to lose the ladies a bit while we ate.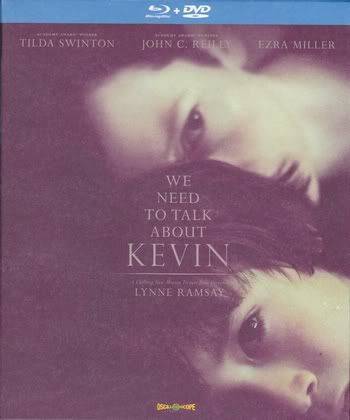 Dinner was great and we all thoroughly enjoyed it while finishing up the movie, then I popped in a little something off the
To-Watch Pile
that I was kinda banking on being something everyone could get into, rather than the corny horror nonsense Bucky and I tend to expose the wives to.
We Need To Talk About Kevin
stars
Tilda Swinton
as a broken woman whose story is told in a disjointed narrative, flipping between at least three different time frames, from her time with her son as an infant into toddler age, then later as a teen and finally in the present, after some tragedy has separated her from her community and her absent family. The fractured storytelling may not appeal to everyone, but the payoff is definitely worth it, as the general arc of the film examines the possibility that a child can be born bad, or does a mother's lack of connection to a child shape the future he might have? It was a really well made film, but ultimately a bit heavy, so I was pleased to have a third film on tap to lighten the mood in the late evening.
We paused around this point to make some coffee, then we watched
Crazy, Stupid, Love.
, which is a rom-com the wife and I had watched several months back and really enjoyed. I'd picked it up cheap on
Blu-ray
awhile back, and was happy to introduce the guests to it. The movie is sweet and funny on the re-watch, and I'm thoroughly happy to have given it a shot. Really well-written and directed, by three men if I'm not mistaken, which might account for the more universal appeal of things instead of it falling into the typical trappings of the genre.
We called it a night somewhere in the neighborhood of midnight, then I put the wife and
Yorkie
to bed and spent several hours dicking around on the web and not sleeping, because the coffee may've gotten the better of me. Oh well, it's not like I have anything to add to life, so I can sleep in tomorrow if need be.
Be seeing you.