The Tuesdayshack Rises
Today was to be something of a busy day for the wife and I, as she'd made early lunch plans with a couple girlfriends after a nail appointment, but was then to join myself,
EL
,
DR
as well as
Buckaroo Banzai
& his wife
Pookie
to watch us eat our late lunch, then go to see a movie with
Bucky
,
Pook
and myself. The movie would take up most of the afternoon, then we'd likely end up having dinner in the evening as well, so the day was pretty much spoken for when the alarm went of this morning.
As it turned out, one of the wife's friends backed out of the lunch plans, so the wife was able to consolidate things by inviting
The Lobbyist
along for lunch at 1:00, so that streamlined things
slightly
.
I woke with the alarm at 9:00 and got the bed made and the house opened up before grabbing a quick shower and dressing for the day. I spent a bit of time on the
PC
in the
Office
to get a few things online caught up and updated my little spending tab list that I maintain each year. I was kinda chilling in the den when the wife got home from her nail appointment, then she moved into the Office to catch up on her own rat killing on the
Mac
, so I flipped channels on cable while waiting for our friends to join us.
Bucky
and
Pookie
turned up around 11:30 and unloaded an assortment of liquor that they were kind enough to gift us with, as their current diet forbids consumption of booze and they figured we might have a use for it, either for ourselves or for entertaining. We visited for a bit before heading out to pick up
TL
, who we only have in town for another 24 hours or so, which made it nice to spend a little more time with her.
We met everyone at our normal
Mexican
place across town (leave it to me to suggest a place completely across town from
TL
's house) where
DR
and
EL
soon joined us and we visited over a nice meal and allowed the group to get to know one another, as several of those assembled had never met before.
DR
actually used to work with
Bucky
back during his tenure at the theater, so I was happy to put those two in the same room, just so they could catch up a bit. We eventually said our goodbyes, then dropped
TL
back off at her mother's place and headed to the theater, arriving a bit early for our 3:00 showing, but happily in time to grab decent seats in a largely empty auditorium.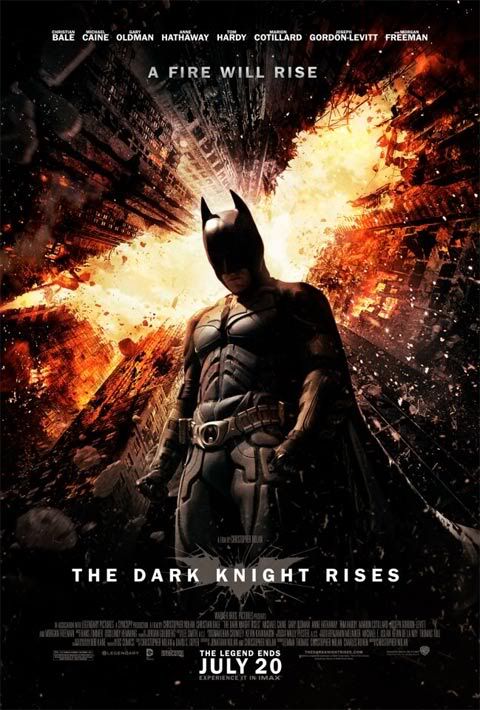 The Dark Knight Rises
was something I felt I kinda had to see sooner than later just because the interwebs were starting to get more spoiler-y as the weeks wear on, where everyone wants to be nit-picky assholes about every single detail and blurt out every twist or turn in the story because they've seen it and must hold court. The movie is every bit as long as the other films, but held my attention from start to finish. The various twists weren't spoiled for me, as I'd all but gone out of my way to avoid info about the film after I'd seen one or two of the first trailers ages ago, so things were new to me and rather entertaining.
After the film we headed back to our place to relax, where the wife piddled with a few things in the
Office
and I chatted with our guests in the den while poking around on the
TiVo
to see what might be on to pass the time.
Bucky
had a phone call to make, which kept him on the phone for a bit with customer service over a
DVD
issue, then we started halfway watching
Caddyshack
until the wife joined us for further conversation.
Talk eventually turned to dinner, and our guests were kind enough to step out and grab some takeout for the evening meal. A short time later we were tucked into some pizza and watched some of the special features on the
Criterion Blu-ray
of
Tiny Furniture
, which included her first feature length film called
Creative Nonfiction
, which was amusing if a tad raw compared to her later work.
Our guests split around 10:30 or so and the wife called it a night, as she has a fairly early morning. I picked up a bit and then got started on this post so I can get into bed and be up to greet the
Maid
in the
AM
.
Be seeing you.