Night Of The Tricks, Halloween In The Cabin (Or: Why Are The Kids Wet?)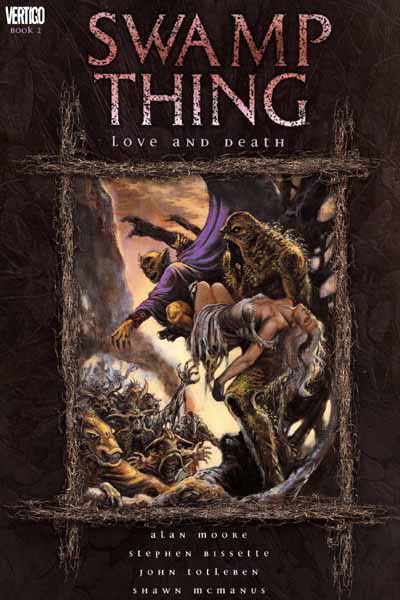 Down Among The Dead Men.
Last night I started the second volume of the
Swamp Thing
collections, just to kinda unwind after an evening of entertaining, which kept me up until around 3:00 or thereabouts, the standard story for the past few weeks. I set the alarm for 10:00, which would afford me a reasonable amount of sleep but still get me up and moving in time to see
Morris
off with the wife at the airport. The
Yorkie
and the wife actually ended up waking me about an hour before the alarm as the dog wasn't keen to go to the
Groomer
and was trying to hide out in the bedroom the moment that she saw the little carrier come out of the closet.
I went back to sleep for about an hour, waking literally seconds before the alarm and wandering into the kitchen to see what everyone was up to. As it turned out Morris had accompanied the wife on her errand to the Groomer, then they had picked up some breakfast for us on the way home. We ate and visited for a half hour or so before it was time to start thinking about heading towards the airport, so I drove us to drop Morris off, then we headed back to the house where the wife busied herself on the interwebs while I got an Amazon sale ready to mail and then headed back out to grab lunch with the fellas and run a couple errands of my own.
Lunch with the guys was good, we caught up after missing out last week and EL spent some time trying to perk up DR, who was off on some weird depressive tangent that I couldn't even decipher; I literally have no idea to this very moment what he was actually on about and what it stemmed from - something about the 'evil' in the world and how it relates to his art, which I don't see at all. Whatever. I just didn't have the strength to try to get into it with him today.
After lunch I ran an errand to the mall to get a head start on my
Christmas
shopping for the wife, then stopped into
Best Buy
for a wild hair purchase of
Halloween
on
Blu-ray
, just because I knew that I was going to try and re-watch it again today and have been curious about the features and picture quality and it's only $8, so what the fuck, right? After I grabbed that I headed by the bank, where a teller asked me for the driver's license that I sent her when I sent in my stuff for deposit, so I tell her that she should already have it, but she was already sending out the little carrier anyway, which arrived with my license inside,
looking straight at me
. I pressed 'send carrier' and sent it back, she could magically see it now and I was able to get on down the road. How she didn't see the silly thing inside a clear tube is beyond me, but more than anything it all just struck me as a surreal glitch in my afternoon.
The Post Office was hassle free and I headed home to see what the wife and Yorkie were up to. They were relaxing in the bedroom, so I spent a bit of time on the web, catching up a post from yesterday that I can finish at a later date, making an order for a few things I had noticed on sale on the web, then finally selecting the afternoon/evening viewing to account for the impending trick or treaters.
Detective...Thrill Me.
Night Of The Creeps
was up first and held up well, as always. The film is full of nostalgia for me, as well as being a well-made homage to a few different genres. I would also venture to say that for me it's the only film that gets a pas on the whole 'naming characters after horror figures' trope that seems to pop up in so many smaller films and always annoys the shit out of me. It was clever/amusing when it happened in this film, if you do it 30 years later it just screams amateur hour to me. Sorry kids, it's just not clever anymore.
The wife started making some chili for dinner, which is apparently the second year she's done this on Halloween, so I guess we have a new family tradition in the offing? I got our little selection of candy and toys ready to go in the cauldron we 'serve' out of, gave it all a good stir and then placed it by the door. Our first guests were a friend of the wife's and her daughter, who came inside and visited for a bit, then I had to take a moment to fetch the little dog gate that we use to make sure the dog doesn't get out when we're giving stuff out, as other people had started making their way up the walk and the pup was starting to freak out good and proper.
Mind The Traditions.
We re-watched
Trick 'R Treat
in between greeting folks at the door, which ate up more time than you'd expect, what with pausing every five to ten minutes or so to see what the
Yorkie
was wailing about from the front door. I'm sure her bouncing, grouchy antics pissed off/scared off any number of kids just because she freaked out as if someone was breaking down the door as they just
walked up to the house
, they didn't even have a chance to
ring the bell
before she started freaking the fuck out - it's a little ridiculous. We had a decent enough run of kids to start things off, though around 8:00 things got slower, which was no doubt exacerbated by the fact that our lawn sprinklers are scheduled to come on automatically at 8:00
PM
, so I'm sure some kids weren't interested in traipsing through the spray to grab a piece of candy. And before you get all weird about it, the timers aren't anything I've bothered to learn much about, so I sure as hell wasn't going to start tinkering around with them just so we could keep giving away stuff. I'm not
THAT
committed to the trick or treating process/tradition.
Blackest Eyes, Etc.
When we finally wrapped
Trick 'R Treat
I moved on to
Halloween
on
Blu-ray
around 9:00 or thereabouts. I had intended to watch the film just to see what the picture quality looked like, but then I suddenly clicked on the idea that I've never listened to
any
of the commentaries on any of the releases that I've owned, so I turned on the commentary from
John Carpenter
himself,
Debra Hill
and
Jamie Lee Curtis
, which was pretty informative and interesting from start to finish. This was also a nice way to keep the viewing 'fresh', as it's a film that I know from start to finish and had watched only a few days earlier, so this commentary thing went a long way towards holding my interest as the evening grew late.
The wife tapped out about halfway through the film, so I put both she and the
Yorkie
to bed before finishing it up.
Be Careful What You Wish For
With The Mer-Man.
I wrapped up my own evening with a re-watch of
Cabin In The Woods
on
Blu ray
, just to end on a meta note and enjoy the flick one more time for the season. It holds up
so well
, with a great blend of humor, traditional horror tropes and straight up gore that's hard to resist. Honestly it's one of the most enjoyable things I've seen this year and is definitely the only thing I've watched multiple times, except maybe
Drive
, although I can't recall the first time I saw that one; could've been last year.
Cabin
was a ton of fun to re-visit and ends on that amazing note as
Nine Inch Nails
'
Last
kicks in over the credits, an amazing use of the track.
I headed to the web afterward to get this post ready to go before crashing out to read for a bit and pray that the antacids settle this chili, because dinner is currently giving me fits.
Be seeing you.