Fencing, Engagements, Identities
Today was something of a strangely busy day around these parts, as we had the
Fencing Guys
turning up to finish that little project on the side of the house, plus we had called yesterday about having someone out to look at the slow drain in the master bathroom shower. With this in mind I made sure I was up and at 'em early, since I wanted to try and hit up an estate sale that promised
DVD
s and
CD
s, but I still got a call from the
Plumbers
before I had even left the house. I told them any time after 11:00 was good today, then dressed and hit the bank before taking a prowl through this estate sale, where I found nothing, which is about par for the course lately.
I
did
find myself hungry, so I picked up an early lunch on the way back to the house, where the
Fence Guys
were in full swing, with the
Yorkie
bitching at them from the front window whenever she caught sight of them going to and fro with materials and what have you.
The wife was out and about running errands of her own, so I settled into the
Office
and ate while looking in on
The Simpsons
, then the
Plumbers
turned up and got us sorted out, which took all of like,
15 minutes
. Bah.
Since the one thing I had needed to be home to take care of was now dealt with (the
Fence Guys
can come and go as they please), I decided to take a look around the local books, music and video outlet, where I turned up a few cheap
Blu-rays
and over-heard this little gem:
"I try to read more novels, but it's just not the same as comic books."
Yikes. I can sympathize with this on some level, as I've been trying to read more novels recently, but I'm pretty sure this fella just finds them too challenging all the way 'round, y'know?
Back at the house I touched base with the wife, who was in between meetings and grabbing an afternoon shower since the fucking water would actually
go away
now, so I spent some time reading in the
Library
after admiring the finished fence, which turned out great and didn't take much longer than 24 hours to complete from tear-down to brand new fence.
Sweet. Meandering, But Still
Sweet.
The wife split for her last couple of meetings, so I grabbed a cocktail and popped in
A Very Long Engagement
off the
To-Watch Pile
, because a certain show was going to review it this week and that felt like a reasonable excuse/impetus to finally give it another look. Taking place after
WWI
, it stars
Audrey Tautou
as a young lady in desperate search of any clues that her presumed dead fiance somehow survived the war and could still be returned to her. The film is simply gorgeous, and though it does kinda ramble around in spots I still dig it quite a bit; it's well worth a look if you've never seen it.
The
Mother In Law
dropped by for a few, delivering a birthday card that the wife is to take to the
Youngest Nephew
when she flies to see him for a
Dallas
day trip tomorrow.
The wife had returned with food towards the end of the movie, so we finished up our little dinner and moved on to some television next.
Community
continues to be sort of what I want it to be, and while I want to think that I', just judging it more harshly after the network ran the show's creator off, I honestly think the overall tone has changed. It's still slightly 'edgy' or whatever, but there's a certain sappy typical sit-com element that's begun to creep in and I just don't care for it. Oh well, maybe they'll find their stride, but I kind of doubt it, I fear this one may just start to slide into obscurity before it's all said and done.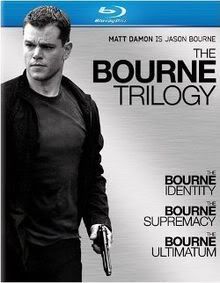 Previously Known As Jackie Chan's
Who Am I?
We moved on to a new
Archer
next, then caught up on the last couple episodes of
Comic Book Men
before the wife crashed out in anticipation of her early morning departure for
Dallas
. I stayed up late and gave
Skyfall
a really wild hair re-watch (such a great film, easily my favorite Bond ever), which led into the thought that maybe I should re-visit the
Bourne
films as well, so I wrapped a pretty late night with
The Bourne Identity
, which still holds up pretty well. I started the second film with the mistaken idea in my head that it was my favorite of the three films, quickly realizing that I much prefer the events and action of the
third
film, so I watched about half of it before making the decision to finish it up on
Friday
afternoon and crash out for the night.
I'm out kids.